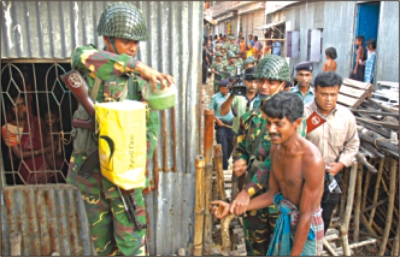 The joint forces and police arrested 1,637 persons, including grassroots level leaders of the Awami League (AL) and BNP, across the country during their 24-hour drives until yesterday morning.
The joint forces arrested 548 persons during their special drives while the police held 1,089 persons. Of those arrested by the police, 87 were arrested by the Dhaka Metropolitan Police (DMP).
According to DMP sources, of the 87 arrestees two are convicts in separate cases and 21 had arrest warrants against them while 46 were arrested in regular cases, six for mugging, two for murder, two in illegal arms cases and eight on other charges.
Meanwhile, different political parties have criticised arresting of their leaders and activists.
But the government in a handout yesterday said the joint forces arrested the 548 persons on specific charges and that there is no "political intention" behind the arrests.
Our correspondent in Kishoreganj reports: The joint forces arrested 44 persons including listed criminals. They also conducted raids on the residences of several AL and BNP leaders.
On Saturday night, the joint forces led by Major Salahuddin Al Murad launched a special drive to arrest 210 most wanted criminals, including activists and leaders of both the AL and BNP who are involved in different criminal acts.
The joint forces also raided the residences of Kishoreganj Municipality Chairman and BNP leader Abu Taher Mia, municipality BNP Secretary Ismail Hossen Modhu, district Sramik League Secretary Sirajul Islam and a few ward commissioners.
Our Bogra correspondent reported that the joint forces arrested Ahle Hadith district unit General Secretary Abdur Rahim and 16 others.
Abdur Rahim, who had been arrested about one and a half years ago for his involvement with the banned Islamist outfit Jama'atul Mujahideen Bangladesh, was arrested again from the jail gate soon after his release on bail yesterday.
A correspondent from Faridpur reports: The joint forces and police arrested 14 persons including Ghatak Dalal Nirmul Committee Faridpur unit President Mahbubur Rahman Khan.
The other arrestees include Sazzad Hossain, Ali Hyder Lelin, Zulfikar Ali Khan.
Kotwali police in different drives also arrested 10 persons including Miraz, 26, a convict in a case filed in connection with attempting to murder journalist Prabir Sikder. Miraz had been evading arrest for a long time.
Our correspondent from Chandpur reports: At least eight persons, including AL and BNP leaders, were arrested in separate drives.
Superintendent of Police Obaidur Rahman Khan said all the eight arrestees are accused of different charges.
The arrestees are district Juba Dal Sports Secretary Monir Miji, former UP chairman of Kochua Sadarpur Delwar Hossain Patwary, AL leader Saddam Hossain, BNP leaders Zahir Hossain, Azad Hossain Sarkar, Mubarak Ali, Nur-e-Alam and Wasim.
Our correspondent from Sirajganj reports: Rab arrested two persons including a Jubo Dal leader in separate drives in Sirajganj.
They are Sirajganj Abu Sayeed, general secretary of district Jubo Dal and Russel, a listed criminal.
Sources said a team of Rab-12 raided the areas near Amlapara graveyard in the town yesterday noon and arrested Abu Sayeed. They held Russel from his house during a raid in several areas at Sandarpara village yesterday morning.
They were arrested on several charges including extortion, sources said.
Our staff correspondent in Rajshahi reports: the joint forces yesterday held two Awami League leaders at Puthia upazila in the district.
They are former vice-president of Bangladesh Chhatra League Ahsanul Haque Masud and sports secretary of Puthia Jubo League Amirul Islam.
Sources said Ahsanul was accused in seven cases on different charges including murder and extortion while five cases were filed against Amirul on charges of extortion and other criminal offences.
However, the detainees were not shown arrested in the cases filed against them. They were held under the Emergency Power Rules.
Meanwhile, Puthia Awami League general secretary Golam Faruk strongly condemned the arrest of the party leaders.
"The cases were filed against them during the period of BNP-led coalition government to serve political interests. They were granted bail in all the cases," he said.
Our Rangpur correspondent said: joint forces arrested district BNP joint secretary Masud Khan from his Jummapara residence on Saturday night.
Police said a case was filed against Masud under section 16(2) of the Emergency Power Rules and he was handed over to police after the arrest.
He had also been accused in a number of cases on different charges including extortion and possessing illegal arms.
Our Chapainawabganj correspondent reports: joint forces in separate drives arrested AL activist Abdul Malek of Bholahat upazila and Jamaat activist Habibur Rahman Hobi of Gomostapur early yesterday. They were handed over to police.
Our staff correspondent from Khulna adds: six people including Khulna city AL leader Birendra Nath Ghose were arrested by joint forces on Saturday night and yesterday.
The other arrestees are Al leader Bulu Biswas, Jubo League leader Rafiqul Islam, Jatiya Party leader Moniruzzaman Elu, Zahidur Rahman and Imran Khan.