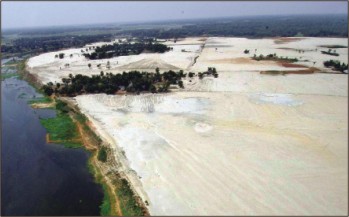 The Rajdhani Unnayan Kartripakkha (Rajuk) has put on display a list of approved land development and housing schemes but it contains no ongoing private projects.
Layouts of these projects have been put on display to inform people about private and government housing projects duly approved by the city development authorities.
The move was taken to save the innocent people from being duped by publicity of the fraudulent developers implementing their illegal projects, said Rajuk officials.
Rajuk Chairman KAM Haroon said the display will protect the general public from falling prey to manipulative publicity of illegal projects.
Now prospective customers can see the list on the first floor of Rajuk Bhaban and choose from them without any doubt and fear of deception by fraudulent developers.
They have the opportunity to check legal status of a private housing project within the Rajuk area before entering into a purchase deal.
The layouts on display include 24 private housing projects approved long before the Private Housing Project Land Development Rules of 2004 came into force.
Asked why the list contains no ongoing private projects, Rajuk sources said none of the ongoing private land developing projects is approved under the rules.
Gulshan, Banani, Baridhara, Dhanmondi, Uttara and Purbachal as well as commercial and industrial areas developed by Rajuk and erstwhile DIT are on display.
The layouts of private housing projects on display got approval between 1984 and 1998. Most of such projects are completed and hardly known to the public today.
The plans on display specify exact area of a project. People are invited to see the display and check out authenticity of a private housing project.
Rajuk used to deal with approval of private housing projects before enactment of Wetland Conservation Act of 2000, Environment Conservation Act of 1995, Dhaka Metropolitan Development Plan (DMD) of 1995 and private housing rules of 2004.
In case the developers initiate extension or alteration of the layout plan of any project, they have to obtain approval under the private housing rules of 2004.
The rules clearly prohibit sale, allotment and advertisements of unauthorised housing projects in any manner before obtaining approval from the authorities. It is a punishable offence under the Building Construction Act of 1952 (amended in 2006).
Violation of the housing development rules destroying natural environment is also punishable under the Environment Conservation Act of 1995.
But powerful housing developers often make publicity of their unauthorised projects on television and in newspapers and public places to sell plots and flats.
However, these developers are silent now in the wake of the interim government's anti-corruption drives and action against illegal activities, said Rajuk sources.
Most of these housing companies are not even registered with Rajuk, they added.
A crucial precondition for implementing a housing project is that the layout plan of a proposed project must have a GPS-based (Global Positioning System) topographical survey map clearly marking cultivable and non-cultivable lands, wetlands, flood retention ponds and basins, canal, river, creek and forestation.
Recently, the national committee on approving the private housing (land) projects rejected applications of two private developers on the ground that they could not meet the prerequisites for approval as per the private housing project land development rules.
The rules of 2004 provide that any extension or continuation of a completed project, let alone the new ones, has to obtain approval.
According to records at Rajuk, Pallabi Abashik (30.44 acres) and Arambagh Cooperative Housing (7.59 acres) projects of Eastern Housing Ltd got approval in 1984. Kalyanpur Land Project (4.79 acres) of the same developer got approval in 1986. Cap Hasan (Niketan) Housing Project (68.53 acres) of Eastern Housing got approval in 1987.
Adarsha Chhayanir Greeha Nirman Samabay Samity project (4.5 acres) got approval in 1986. Baitul Aman Cooperative Housing Project (12 acres) got approval in 1986, Mohammadpur Pisciculture Housing Project (38.01 acres) in 1987, Firoza Properties and Development residential project (9.10 acres in Mohammadpur) in 1987 and Metropolitan Christian Co-operative Housing Project in Tejgaon got approval in 1987.
Janata Housing Project (4.40 acres in Kafrul and Mirpur) got approval 1987. Postagola (2.22 acres), Rayerbazar (10.03 acres), KM Das Lane (4.02 acres), Bashabo (3.03 acres) and Shishmahal (11.31 acres) projects of Eastern Housing got approval in 1987. Cap Hasan Housing Project in Paikpara (6.13 acres) got approval in the same year.
Postagola Riverview Land Project (29 bighas) of Eastern Housing got approval in 1989, Mallika residential project (4.53 acres in Mirpur) of Sheltech Private Limited in 1990, Blue Star Estate (0.33 decimals in Kakrail) of Blue Star Real Estate Limited got permission in 1990, Probal Housing (8.49 acres in Mohammadpur) in 1990 and Janata Co-operative Housing (14 acres in Mohammadpur) in 1990.
Mukti Real Estate in Mirpur got approval in 1990, Sukhinir residential project (3.99 acres) in 1992, Susomoy Bahumukhi project in Uttarkhan and Gobindapur in 1994 and Jahangirnagar University Cooperatives' Aurunapalli project (82.34 acres in Savar) got approval in 1998.
Basundhara (Baridhara extension) housing project of East West Property Development Limited got approval for 305 acres. But the developer later placed a proposal of 1247.30-acre extended project.