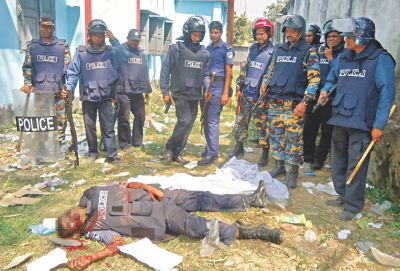 In utter inhumanity, Jamaat-Shibir men yesterday gauged out one eye of a policeman and hacked him indiscriminately to death at Sanatanpur police camp under Harinakundo upazila in Jhinaidah.
With the murder of constable Omar Faruque, the death toll of law enforcers rose to six in a countrywide reign of terror that Jamaat-e-Islami and its student body Islami Chhatra Shibir unleashed on Thursday in protest at the death sentence of war criminal Delawar Hossain Sayedee.
Earlier, four policemen were killed in Gaibandha and one in Chittagong, Additional Inspector General of Police AKM Shahidul Haque told The Daily Star last night.
Another four policemen had been critically injured and were now fighting for life while 300 others had sustained injuries in clashed between Jamaat-Shibir men and law enforcers, he said.
"They [Jamaat-Shibir] want to weaken police's morale by attacking and killing them."
The policemen were either beaten or hacked to death by Jamaat-Shibir men. In some incidents, marauding Jamaat-Shibir activists gauged out eyes of law enforcers and even jabbed a sharp weapon in their heads to confirm the deaths.
The law enforcers fell victim when they tried to resist unruly protesters to save lives and public property. In many cases, they came under attacks all of a sudden.
Attacking law enforcers is not new for Jamaat-Shibir but such attacks has been intensified after the International Crimes Tribunal-1 sentenced Sayedee to death on charges of murder, rape and forced conversion during the 1971 Liberation War.
According to the country's law, any kind of attack on policemen is punitive offence. It is said in the law that the offender will be awarded three years' imprisonment or fine or both if charges of "assault or use of criminal force to deter a public servant from discharging his duty" is proved.
But Jamaat-Shibir men went to the extent that they killed so many law enforcers in the last four days.
One of the most brutal killings took place yesterday at Sanatanpur police camp under Harinakundo upazila where eight policemen had just been deployed to contain law and order situation there.
Over 3,000 Jamaat–Shibir men came rushing to the police post from all direction, taking the law enforcers off guard. They hacked the policemen.
Injured all over his body, Omar Faruque was groaning with pain but the unruly mob continued hacking him. At one point one of his eyes was gauged out. By the time the Jamaat-Shibir men left the scene, Faruque was dead. Four of his colleagues with severe injuries somehow managed their way into hospital.
On Thursday, Jamaat-Shibir men locked at least 19 policemen up in a community centre in Lohagara, Chittagong and set the place on fire after the law enforcers had taken shelter there to escape attacks.
Another group of police then rushed there and rescued them. But one policeman was snatched by Jamaat-Shibir men and hacked to death before he could enter the community centre. To confirm the death of Tarakul Islam, the attackers jabbed a sharp weapon in his head.
Hundreds of Jamaat-Shibir men attacked a police outpost at Banondanga railway station in Sunderganj of Gaibandha on the same day and beaten to death three policemen, who were unarmed at that time.
Injured in the same attack, another policeman died on Friday.
At least 66 people were killed, including the law-enforcers, and scores others injured in the last four days in attacks by Jamaat-Shibir men.