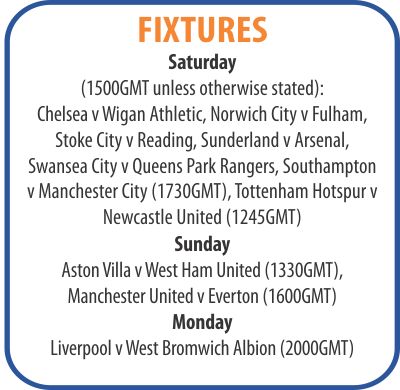 Manchester City hope to capitalise on Manchester United's Champions League distractions by re-launching the defence of their Premier League title, starting with Saturday's trip to Southampton.
City's 2-2 draw at home to Liverpool last weekend enabled United to stretch their advantage at the top of the table to nine points, with only 13 games of the season remaining.
However, while United will have half an eye on Wednesday's trip to Real Madrid when they host Everton on Sunday, City's own failure in the Champions League means their agenda is free of European commitments.
Aside from a home game against second-tier Leeds United in the FA Cup on February 17, City can therefore channel all their resources into the pursuit of United.
Ivory Coast's quarterfinal exit at the Africa Cup of Nations means that City manager Roberto Mancini will have both Yaya and Kolo Toure at his disposal for Saturday's visit to the English south coast.
Yaya Toure played a key role in last season's drive to the title, when City came from eight points behind to pip United on the final day, and he says the experience of the 2011-12 campaign proves it is too early to abandon hope.
"We are further behind than we'd like, of course, but all we need to do is think about last season to know what is possible," the midfielder told the club's official website.
"Anything can happen. We have a full squad of fantastic players and I think the most important thing is we are all back together.
"United have a strong squad and on paper, they have an easier run-in than we do, but the title race is a long way from finished."
Everton's last visit to Old Trafford, in April last year, saw them come back from 4-2 down to force a 4-4 draw that played a pivotal role in tilting the momentum of the title race in City's favour.