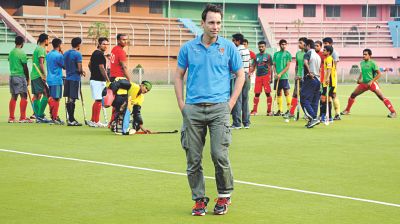 International Hockey Federation (FIH) president Leandro Negro responded positively following the Bangladesh Hockey Federation's prayer for help to the FIH president yesterday.
Negro arrived the capital yesterday for a two-day visit and met the sports minister Ahad Ali Sarker and Bangladesh Olympic Association president and Army Chief General Iqbal Karim Bhuiyan before attending a dinner arranged by few hockey patrons and former hockey players.
"We have sought two astro-turf for free as well as the installation of floodlights at the hockey stadium. He (Negro) assured us that he would try to provide two synthetic turfs, which must be under control of the hockey federation and install those in places where the federation can host international matches," said BHF general secretary Rahmatullah adding that Bangladesh would have to bear the carrying cost as well as government taxes.
If the BHF gets free turfs from the FIH president, they would install those in Savar BKSP and Dinajpur BKSP, places where the federation would be able to maintain the turfs as well as host international matches with accommodation facilities.
The FIH president, however, did not make any promises to provide the floodlights and the BHF officials were thinking of buying floodlights at a subsidised rate using the connection of the FIH president.
Leandro Negro will visit the hockey federation today to meet the BHF president and the national players who have been preparing for the World Hockey League (Round-2) to be held in New Delhi from February 18.
Meanwhile, Belgian coach Mike Keenan also arrived here yesterday as the FIH-provided expert will be working with the national team till February 8. The 43-year old coach had his afternoon time with the national hockey team.
"I will be working closely with the team. I have a little bit idea on Bangladesh side. First I have to see them in practice to get an overall idea as I have detailed plans of training. I will be trying to give my best during my stay here," said Keenan before the start of the training at the Maulana Bhasani Hockey Stadium yesterday.