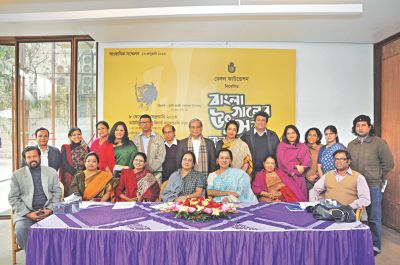 This is a good year for Bangladesh, on the cultural front, and the year has just begun. Photographers from around the world are converging at the ongoing Chobi Mela VII, happening in Dhaka, and this year's Kolkata Book Fair has put Bangladesh in the limelight as the theme country. After photography and literature, it's turn for Bangladeshi music and artistes to shine across the border.
Bengal Foundation, in association with ITC-Sangeet Research Academy, is organising what could be the grandest Bangla music festival ever. The nine-day long festival (from February 8 to 16) titled, "Bangla Gaaner Utshab", will be held at the ITC-SRA premises located in Kolkata (1, Netaji Subhas Chandra Bose Road, Tollygunge), India.
At a press conference held yesterday at Bengal Gallery of Fine Arts in Dhanmondi, Dhaka, the organisers and some of the participating artistes spoke on the upcoming festival.
Luva Nahid Chowdhury, director general of Bengal Foundation, said, "Last year's Classical Music Festival (jointly organised by Bengal Foundation and ITC-SRA) was a great success and that has encouraged us tremendously. Although the festival featured some Bangladeshi artistes, it mainly highlighted master artistes and gurus from India, which shouldn't come as a surprise; in classical music, India is certainly far ahead. However, we have plenty to be proud of. When Bangla music is concerned, we believe, Bangladeshi artistes have achieved a level of excellence and need to be promoted across the border. We are fortunate to have ITC-SRA as an able partner."
Abul Khair, chairman of Bengal Foundation, said, "The festival will be dedicated to Kazi Nazrul Islam. We thought it was apt to dedicate a festival that would highlight Bangladeshi singers and Bangla songs, to the National Poet of Bangladesh. I reckon this would be a great opportunity to showcase our artistes and musicians to the Kolkata audience."
According to the organisers, 50 renowned and emerging Bangladeshi singers and musicians, including Farida Parveen, Rezwana Chowdhury Bonya, Kiron Chandra Roy, Khairul Anam Shakil, Mita Haque, Chandana Majumder, Fahim Hossain Chowdhury, Shama Rahman, Iffat Ara Dewan, Subir Nandi, Fahmida Nabi, Bappa Mazumder, Arnob, Krishnakali, Swani Zubayeer, Buno, Jalal, Jibon, Saad, Gourob and Nabonita will be performing compositions of Pancha-kobi (Tagore, Nazrul, DL Roy, Atulprasad and Rajanikanta), Adhunik, semi-classical, Jibonmukhi and folk songs at the festival.
Bengal Foundation will also launch 30 music albums of the featured artistes at the festival.
From the Indian side, Pandit Ajoy Chakrabarty, Srikanto Acharya, Shubhomita, Swagatalakshmi will perform at the event.
Apart from music, the festival will also feature two dance-dramas: "Bhanu Singher Padabali" by Bhabna (from Dhaka) and "Shapmochon" by Dakkhini (Kolkata).
Asaduzzaman Noor will recite poetry at the event.
As added attraction, traditional Dhaka food, like kachchi biryani, will be available at the festival.
Prothom Alo and The Daily Star are partners of the festival. Maasranga Television is the broadcast partner and Charbela Chardik, Kali O Kalam, Bengal Barota are media partners.
Sadya Afreen Mallick, editor of Arts & Entertainment, The Daily Star, expressed the hope that more organisations would be encouraged -- to hold cultural events on a grand scale -- by Bengal Foundation's endeavours. She said, "When Padma Shris and Padma Bhushans raved about the Dhaka audience and the classical music festival last year, I was elated. That festival was important as it gave us an impression of where we stand as performers. This upcoming festival is equally important, but for very different reasons; it will highlight Bangladesh and where we excel."
Among others, Farida Parveen, Kiron Chandra Roy and Fahmida Nabi, also spoke at the conference and hoped that they can make Bangladesh proud at the festival.