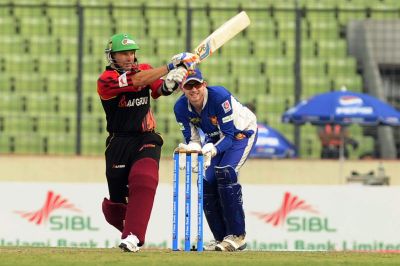 Barisal Burners captain Brad Hodge became the first ever batsman to score more than 5000 runs in T20 cricket with his 34 against the Chittagong Kings in Khulna yesterday. He reached the landmark in 171 matches. Hodge, who has been Barisal's mainstay ever since the inception of the Bangladesh Premier League (BPL) T20, has played for 14 Twenty20 teams around the world and scored at an average of 36.29. He scored two centuries and 34 half-centuries in this format of the game.
The batsman, who required 25 runs to reach the milestone at the start of his innings, did so in the eighth over with a drive through cover in yesterday's game. The record was the only bright spot for the captain yesterday as his team slumped to an unexpected 21-run defeat to the Kings."It was a game that we should have won. Chasing 130 should not have been difficult. Our batting was pretty average, we needed to play with a lot more freedom," Hodge said at the end of the match.
He was however delighted to have reached the landmark. "I am just very happy. I have made 10,000 plus runs in Sheffield Shield and 5,000 in T20s, means that I have performed well over the course of my lifetime," Hodge told EspnCricinfo.