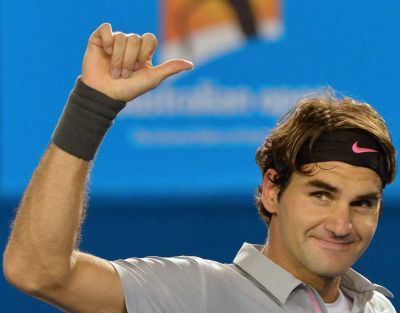 Roger Federer tamed big-serving Canadian Milos Raonic while Andy Murray showed an ailing Gilles Simon no mercy as they swept into the Australian Open quarterfinals Monday.
The pair were joined by Jeremy Chardy and former finalist Jo-Wilfried Tsonga, who powered past another Frenchman Richard Gasquet to set up a meeting against 17-time Grand Slam king Federer.
The Swiss ace was forced through a tough second set tiebreak by Raonic but held his nerve and raced to 6-4, 7-6 (7/4), 6-2 win in 1hr 53min to reach his 35th consecutive Grand Slam quarterfinal.
US Open champion Murray was too physical for the troubled French 14th seed Simon, still struggling after a marathon match over the weekend, as he won 6-3, 6-1, 6-3 in 1hr 35min.
Simon was barely mobile around the court following Saturday's nearly five-hour win over fellow Frenchman Gael Monfils, and he was a spent force late in the match.
"I have to try and focus on my side of the court. He's one of the best movers on the tour and he was clearly struggling in his movement today," Murray said.
"It was tough, but that's what Grand Slam tennis is. The games are so physical nowadays and it was 8-6 in the fifth set the other day and nearly five hours, so it was tough for him."
Simon was sanguine about his exit. "It was just difficult for me today. I just did all I could for the last two days to be able to play this one," he said.
"It was a painful hour-and-a-half on the court. Andy is a very good player so it's always very hard to beat him. Without being 100 per cent you have almost no chance to do it."
Murray largely did as he pleased, breaking Simon three times in the opening set, another three times in the second and two more in the final set.
He now faces up to the 36th-ranked Chardy in the last eight, following the Frenchman's four-set win over Italian 21st seed Andreas Seppi earlier on Hisense Arena.
Chardy's previous best performance at a major was his fourth-round appearance at the French Open in 2008, when he lost to Spaniard Nicolas Almagro.
Meanwhile Tsonga sang the praises of new coach Roger Rasheed as he stepped up his campaign for a maiden Grand Slam win.
The 2008 runner-up was too strong for ninth seed Gasquet, winning 6-4, 3-6, 6-3, 6-2 in 2hr 20min on Rod Laver Arena.
Tsonga said his game was benefiting from working with his new Australian coach Rasheed, the former mentor to Lleyton Hewitt and Gael Monfils, as he seeks his Grand Slam breakthrough.