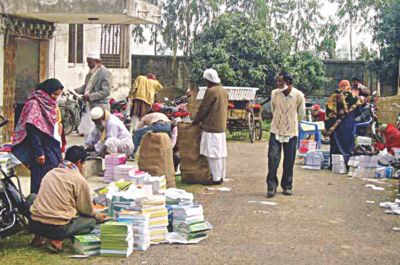 With only five days left for the start of distribution, the authorities of different high schools and madrasas in seven upazilas are yet to get new textbooks of the academic year 2013 as per their requirement.
The situation has become a cause of concern due to short supply of about 7.39 lakh copies of books, said sources at district secondary education office.
Teachers of the institutions are worried over getting remaining books timely as the authorities could not supply the rest of the books last year, said Abdur Rakib, headmaster of Sayedpur High School in Phulchhari upazila.
Moreover, old books can not be used in the upcoming academic year due to major changes in the curriculum, said headmaster Shah Alam of Manikkor High School in the upazila.
In case we did not get the new textbooks timely, it would affect the students, said Alam.
According to the education office, secondary schools received 12,17,539 copies of books against the requirement of 17,82,358 copies while Dhakhil madrasa received 2,17,553 copies against 3,16,301 copies.
Besides, SSC (vocational) schools received 23,805 copies of books against their need of 32,950 copies while 2,64,146 copies reached primary madrasas against 3,21,428. However, Dhakhil (vocational) madrasas are yet to get any book in the upazilas.
On the other hand, almost all the books were sent to primary schools in the district except for 5,509 copies at a few institutions.
District primary education officer Dilruba Begum said, 90 percent of the books have already been supplied to the headmasters of the schools.
She hoped that all the students would get books on the first day of New Year.
The government plans to distribute more than 26.17 crore copies of new textbooks among over 3.68 crore students of primary, secondary (class VI-X), ebtedai (primary level of madrasa), dakhil (secondary level of madrasa) and vocational classes of the 2013 academic session all over the country by December 30, sources said.