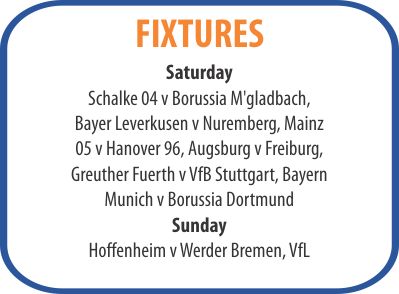 Bayern Munich are out to break their losing streak against defending champions Borussia Dortmund on Saturday in the Bundesliga clash which has been described as 'El Clasico' of Germany.
Bayern extended their lead at the top of the league to 10 points on Wednesday with a 2-0 win at Freiburg while Dortmund, who have won the title for the last two years, lag behind in third and are 11 points adrift.
Munich managed a 2-1 pre-season victory at home to Dortmund in August's Super Cup, but the Bavarian giants are eager to break a Bundesliga run of four defeats in their last four league meetings with Borussia.
Bayern midfielder Javi Martinez, who joined Munich from Athletic Bilbao in August, has likened the Dortmund-Bayern clash to the Real Madrid-Barcelona El Clasico in Spain.
"I have followed the duel in Spain and it is a bit like the Clasico," said the 24-year-old.
"There have always been problems against Dortmund and we have to change that."
Bayern have already lost to second-placed Bayer Leverkusen at home this season and must make home advantage count, said Munich midfielder Toni Kroos.
"Dortmund are the team with the highest quality after us," he said.
"We know they are a strong opponent against whom we have had big problems in the last two years. We want to show we can do better against them."
Bayern will have virtually a full strength squad to choose from with only Luiz Gustavo and Robben out with injury.
Dortmund have a few concerns of their own with midfield pair Mario Goetze and Ilkay Gundogan and defender Mats Hummels all facing a race to be fit.