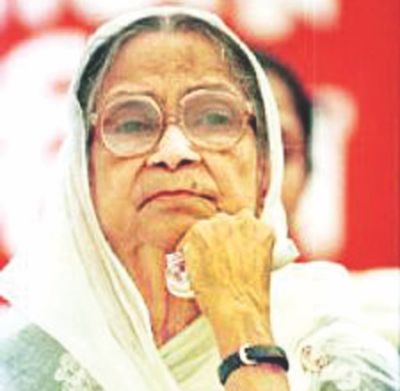 Marking the 13th death anniversary of poet Sufia Kamal, cultural organisation Chhayanaut held a special discussion with a musical programme at its main auditorium on November 20.
Born on June 20, 1911, Sufia Kamal was also the founding president of Chhayanaut. At the beginning of the programme, Professor Begum Akhtar Kamal delivered the 'Sufia Kamal Memorial Speech'. She spoke on whether culture is one-dimensional or multi-dimensional. Chhayanaut president, Deshikottom Dr. Sanjida Khatun, presided over the discussion.
"Culture is a way to emancipation, and Sufia Kamal understood that very well. Despite social restrictions a woman faced in her time, the poet carved a niche for herself," said Begum Akhtar Kamal.
"Sufia Kamal taught us that we can overcome obstacles by marching ahead. Sufia Kamal was always involved in pro-people activities and marched wih the masses," said Sanjida Khatun.
A musical soiree featuring songs of three poets -- DL Roy, Atul Prasad Sen and Rajanikanta Sen -- was held at the event. Chhayanaut artistes set off the soiree with a choral rendition of "Dheer Sameerey Chanchal Neerey", composed by Rajanikanta Sen. Two other songs -- "Ke Tumi Boshi Nodi Kul-e Ekela" (Atul Prashad) and "Amra Emni Eshey Bheshey Jai" (DL Roy) followed.
Several artistes performed solos at the programme. Among them noted singers -- Mita Huq, Aditi Mohsin, Khairul Anam Shakil and Azizur Rahman Tuhin -- stood out for their respective renditions of "Ami Akriti Adham" (Rajanikanta Sen), "Mor Aaji Gantha Holo Na", "Momo Moner Bijoney" and "Minoti Kori Tabo Paye" (Atul Prashad).
Seasoned artiste Iffat Ara Dewan presented an Atul Prashad number "Ami Bandhinu Tomar Tirey" while Nasima Shaheen rendered a Rajanikanta song "Modhur Shey Mukhokhani". Elora Ahmed Shukla faltered while rendering a DL Roy number. Among others, Sukanta Chakrabarty performed an Atul Prashad song while Tripti Khan, Partha Sarathi Shikdar and Pramila Chakrabarty presented Rajanikanta numbers at the event.
Enamul Haque Omar and Pinusen Das on tabla, Almas Ali on violin, Iftekhar Hossain Sohel on keyboard and Pradip Kumar Roy on mandira accompanied the singers. The programme wrapped up with the rendition of the national anthem.