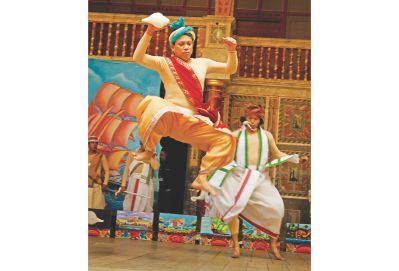 The Ranga Shankara annual theatre festival 2012 this year celebrated the eternal Bard of theatre: the legacy of Shakespeare. With plays in eight languages, from the famous Globe to Globe component, for the first time Shakespeare was reinterpreted with far more festivity than his own natives would have done it. The Dhaka Theatre from Bangladesh took audiences by storm with their colourful and lively adaptation of "The Tempest", directed by Nasiruddin Yousuff.
"The Tempest" as legend goes was supposed to be Shakespeare's last play. Dhaka Theatre's adaptation in Bengali saw a far more enjoyable adaptation of the play. An eager, packed hall of audiences sat in rapt attention from the very go with the sheer visual delight of the simple yet elegant set it erected. The backdrop was painted in masts of a wrecked ship with an image of the mythical Al Buraq prominent, all set to take viewers on yet another magical ride. Metal trunks painted in bright calendar art (from Hanuman carrying the Sanjeevani mountain to sceneries to horses) forming a wall had the audience in eager anticipation of what was to unfold on stage.
The story needs no introduction or elaboration. As the characters came on stage to pick their respective trunks and return to their position at the far end of the stage, the play began with the blowing of a holy conch, almost beckoning the opening of a war sequence, a metaphor for the shipwreck from which King Alonso and his fellow travellers land on Prospero's island. Prospero (brilliantly performed by Rubol Lodi) struts around on his toes like a ballet dancer, creating a slow dizzy effect as he orders his loyal magician spirit Ariel (once again brilliantly performed by a sweet-throated Shimul Yousuf). Who would have thought a woman could perform the role of Ariel so well? With her other spirits, they created magic and how! Manipuri resounded in the theatre as drummers Nila Moni Singha and Bidhan Singha flipped in circles on the stage. A few roles like that of Miranda (performed by Esha Yousuf), who ought to have been a more suave princess did not come forth in the characterization. Even Trinculo (by Saimum Jahan Dola) remained unconvincing in patches but was balanced out by her dialogue with Caliban (a robust-voiced Chandan Chowdhury). But most of the casting did justice to what their characters demanded. The Bard wouldn't have expected to see this kind of south Asian aesthetic in the most remote of his fanciful imagination, beyond the barriers of language and theatrical structures.
All the actors were also excellent singers and this facet enhanced the production to a different level. In most South Asian theatre traditions and performance practices, music, dance and theatre aren't separated as they are in the western world. Utilising this quality, director Nasiruddin Yousuff explored the script in good detail to inculcate as much as possible.
As the story proceeds, we get to see a wealth of south Asian and eastern cultural traditions from Bangladesh. From poems by Tagore to Bhatiyali boat songs, from softly sung melodious raags to attractive costumes, from gamchas to ghungroos, Palagaan to Manipuri Naatpala traditions, dhols to turbans, the play comes alive as never before, as opposed to the dark and intense European versions of it. Pushing the Bard's supposedly inaccessible language over its edges, "The Tempest" presented by Dhaka Theatre recreated a different kind of magic, just apt for the cultural context to where they belong. A revelation was the young and talented Rubayet Ahmed, whose pen translated this arduous script into the confines of the sweetness of the Bengali language. Without a doubt, he can be counted among the next generation theatre professionals, and someone to look out for, from Bangladesh.
All in all, the play was a thoroughly enjoyable experience and probably one of the finest interpretations of the play one could watch. On a standing ovation from a packed hall, ending on an emotional note when the director reminded everyone of the support India provided during the 1971 war, a new bond of friendship was forged. For art sees no boundaries and artistes are global citizens with no nationalities to hold them and this point couldn't have been better put across.
Veejay Sai is a well-known award-winning writer, editor and a culture critic.