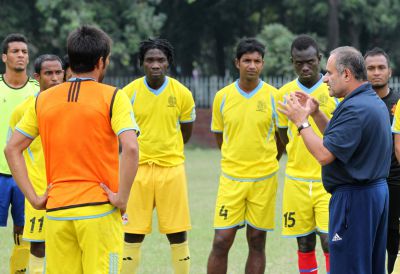 They are the defending champions. They have won four of the league titles in the previous five seasons. They have an experienced side, the core of which has remained much the same over the last two to three years. Yet as they start their defence of the Grameenphone Bangladesh Premier League campaign on November 13, Abahani do not look like the team to beat.
The reason? There are quite a few.
Firstly, they have lost some of the key players like Nasirul Islam, Linkon, Mamun Mia and Zahid Hasan who played a very important role in last season's success. Secondly, they have a new head coach who is only getting to know his players. Thirdly and perhaps most importantly, this is an aging side, with some of the more important players getting close to the age of 30. It is towards that age that players' fitness level takes a dip which affects performance. That phenomenon was quite evident on their nonchalant performance during the Federation Cup where they were beaten by Brothers Union before being knocked out at the quarterfinal stage by Sheikh Jamal DC.
However, Abahani manager Satyajit Das Rupu doesn't think that they are any weaker than last season. He puts a positive spin on it by saying, "It is true they are playing for a long time and maybe getting a little old. But this develops the understanding among players. Fitness may be not good at the moment, but those who will be playing ultimately will be there proving their fitness."
The team had a practice match at their club premises, the first under the new coach Ardeshir Pournimat Vodehi, on Thursday where they only managed to eke out a 1-1 draw against lowly Arambagh Krira Sangsad. The performance of the players, their lack of coordination and poor fitness level hardly impressed coach as well as team management.
The coach conceded it would be a difficult task to retain the title as there are good sides like Sheikh Russel, Sheikh Jamal and Mohammedan.
"I have just had an initial idea of the players. I know the task would be difficult but I will make sure we win tactically," said Ardeshir adding that he did not tinker with the formation (4-4-2) or the style of play because these players are so used to it.
Amalesh Sen, a long time coach of the club, pointed out the reasons for their struggle in the Federation Cup. "Apart from the fitness problems, there are obviously some concerns about the defence and the forward line. However, the coach will have his ideas and will no doubt use his experience to iron out those problems." said Amalesh after watching the match against Arambagh.
The team is expected to be built around the experience of Sujan, Wali, Meshu, Arman, Awudu and Frank. The performance of these players, their experience and cohesion together with the fitness level may go a long way in deciding whether the Sky Blues will win the professional league title for the fifth time.
SQUAD
Goalkeepers: Shahidul Alam Sohel, Mazharul Islam Himel, Uttam Barua.
Defenders: Mohammad Sujon, Waly Faisal (C) , Kazi Nazrul Islam, Abdul Hamid Khan Vasani, Atiqur Rahman Meshu, Mohiuddin Ibnul Siraji, Saikat Bhowmik, Samad Yussif, Sahwkat Russell.
Midfielders: Pranotosh Kumar Das, Abdul Baten Komol, Arman Aziz, Choumrin Rakhain, Shahedul Alam Shahed, Abdullah Rintu, Yoko Samnick, Towhidul Alam.
Strikers: Shakahwat Hosian Rony, Enamul Haque, Awudu Ibrahim, Twum Frank, Lucky Paul, De Silva, Wellington Santana.