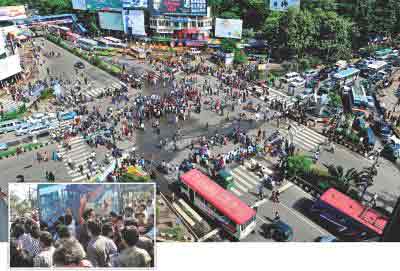 Hundreds of students blocked traffic in the capital's Shahbagh intersection yesterday, protesting against a new government policy on admission to medical and dental colleges.
All four roads of the key intersection had been barricaded for about five hours starting from around 1:00pm.
The protesters say they have postponed their agitation till Eid, considering the sufferings of the people, National Mourning Day and festival vacation.
They will start fresh demonstrations at Central Shaheed Minar on August 27 if the government does not scrap its decision to enrol students in medical and dental colleges on the basis of SSC and HSC results.
On Sunday, a meeting with Health Minister AFM Ruhal Haque in the chair decided that there would be no admission tests for public and private medical colleges this year.
The decision sparked uproar among admission seekers across the country and agitations took place in Dhaka, Rajshahi and Chittagong on Monday.
Also the High Court, in response to a writ petition, yesterday questioned the legality of the decision and asked the government to explain in four weeks why the decision should not be declared illegal.
The agitating students yesterday said the health minister would have to come to them with an assurance of meeting their demands.
Even after getting the HC order, they continued the blockade, saying the government might play new tricks in implementing their decision by taking advantage of such a long deadline of four weeks.
In the morning, around 300 angry students, some accompanied by guardians, staged an hour-long protest at Central Shahid Minar from 9:00am.
They marched through Shahbagh and blocked traffic in front of Jatiya Press Club for over an hour, causing a tailback from Purana Paltan to Shahbagh.
Holding a press conference at Dhaka Reporters' Unity, they vowed to continue demonstrations if the court order went against them.
They said the admission policy would deprive talented students since there were discrepancies in SSC and HSC question papers and answer sheets evaluations.
If the exam results become the criteria for admission, students will indulge in copying to get good grades. And there is also no guaranty that teachers would not give students unfairly high marks, they said.
After the conference, a five-member delegation submitted a memorandum pressing their demand to Health Minister AFM Ruhal Haque.
The minister told the students that they should not have gone to the court as talks could have resolved the matter.
Now the matter was pending in court and the government would take measures in line with the court decision, one of the delegation members quoted the minister as saying.
Later, the admission seekers thronged Shahbagh and barred every vehicle, even motorbikes.
Since yesterday was the last working day before Eid, many people left for launch and bus terminals much early considering the traffic situation. But they remained stuck in jam for hours while many were seen walking with their luggage and children.
"We have been stranded here in front of Ruposhi Bangla hotel for the last one hour. We have to catch the Chandpur-bound launch at 2:00pm but it is already 1:00pm," lamented Yunus Alim, who along with his wife, a child and two bags was walking towards Sadarghat launch terminal.
The people who were returning home from offices also suffered a lot.
"I have been stuck in front of Shahbagh Police Station for three hours. I left my office at Motijheel for my Uttara residence but only God knows when I will make it home," said Kashem Chowdhury, senior executive officer of Janata Bank head office.
The elderly and those who were fasting were the worst sufferers.
Sexagenarian Mohammad Selim, an employee of the Planning Ministry, was seen nodding off inside a Mirpur bound bus at Ramna.
"I have pain in my knees. At this age and while fasting, it is not possible to walk for a long time. That's why I am waiting for the traffic jam to ease," said Selim.
A number of ambulances were seen stuck in the traffic jam.
The Daily Star also talked to a number of students and their guardians.
"If students are enrolled on the basis of their GPA, rural students will be deprived of admission as most of the top graders are from urban areas," said Khan Ishtiaque, who passed HSC from Nawab Sirajuddaula College in Natore.
"We have heard that the universities will take their admission tests next month. Those who have taken preparation for medical colleges, it will be impossible for them to fight in university admission exams with one month's preparation," said Nasima Akhter from Manikganj. Her daughter is seeking medical admission for a second time.
If the government sticks to its policy of GPA-based medical admission, it should also ban admission tests for universities, she said.
"There will be a lack of transparency if the students are enrolled on the basis of SSC and HSC results, as we will never know the minimum scores getting which the students will be enrolled," said another mother, seeking anonymity.
There are 22 public medical colleges that can accommodate around 2,811 students while 53 private medical colleges have 4,245 seats. Last year, around 40,000 candidates applied for admission.
More than 30,000 students obtained GPA-5 this year in HSC from eight general boards.