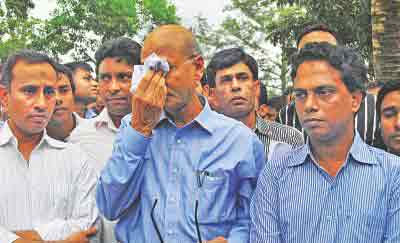 There will be a full and fair investigation into the burning of Murari Chand College (MC College) hostel and none of the offenders will be spared under any circumstances, said Education Minister Nurul Islam Nahid yesterday afternoon.
The minister made the remark while visiting the college hostel that was set ablaze allegedly by activists of Bangladesh Chhatra League following a clash with Shibir men on Sunday night.
Nahid could barely fight back his tears when he saw the deplorable condition of the hostel and the room in which he had stayed during his student life at the college.
Nahid assured everyone that the probe body that has already been formed will carry out a thorough and transparent investigation.
Asked how the probe body was faring, the minister said there would be a fresh enquiry if necessary, but the culprits should be identified. "I feel they [the culprits] are not even human beings."
"MC College is not an asset of Sylhet only," said he. "It belongs to the whole country. We cannot afford to lose everything for a handful of criminals."
Nahid asked the officials concerned to take immediate steps towards restructuring the burnt-down hostel blocks. He said, "We will try to keep the old pattern of the structure."
Finance Minister AMA Muhith also visited the college hostel yesterday afternoon together with the education minister.
"We would go tough on the matter. Stern measures will be taken against those responsible for the shameful incident," the finance minister and also the lawmaker from Sylhet-1 constituency, said.
He added that the hostel would be reconstructed as soon as possible. The officials handed over to him a draft plan of the reconstruction with a tentative cost of Tk 5.52 crore.
Talking to newsmen and others present, Muhith said "We have emotional attachments to the prestigious institution, which has been well known for ages."
As many as 42 rooms were burnt while 70 others were partially damaged in the incident, said the Principal of the college Dhiresh Chandra Sarker.