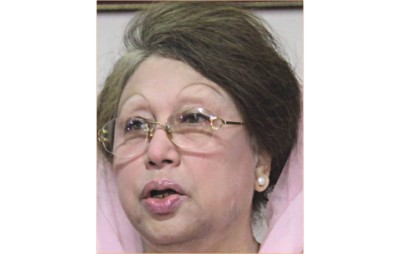 BNP Chairperson Khaleda Zia yesterday issued a four-day ultimatum to the government to locate Ilias Ali and his driver, or her party will go for tougher agitation from Sunday.
The main opposition party will stage demonstrations across the country on Thursday and at all upazila headquarters on Saturday, she said.
The former prime minister was addressing a crowded press conference at her Gulshan office yesterday evening after the end of third consecutive dawn-to-dusk hartal.
"There is no scope to stop the movement. We have showed great patience. We have lost many of our leaders and workers. Many lives have met untimely ends, but not anymore. Tougher agitation will start from Sunday," Khaleda warned.
The BNP will announce its next course of action on Saturday.
Asked about the possibility of getting back Ilias alive, Khaleda said she was hopeful and the government must return the leader immediately.
It was her first formal appearance before the media after Ilias Ali, one of the organising secretaries of the party and former lawmaker, along with his driver went missing in the early hours of April 18.
Ilias' wife Tahsina Rushdir Luna and three children were also present.
The statement Khaleda read out at the press meet touched on railwaygate scandal and resignation of ruling party lawmaker Tanjim Ahmed Sohel Taj.
The BNP chief said it was unconstitutional that the prime minister kept Sohel Taj on salary even after his resignation as state minister. "Finally, Sohel has stepped down as a lawmaker to retain his dignity. And I thank him for that."
Khaleda alleged that the administration and law enforcement agencies had been making up stories since Sheikh Hasina said "Ilias went into hiding at Khaleda Zia's suggestion".
Asking the government to stop "killings and forced disappearances", the former premier said, "The country has become a Moger Mulluk [a land of anarchy]. It is now under a dictatorship. People are in a state of panic over disappearances. They are filled with apprehensions. Things must change."
Hasina alone was to blame for this situation, as it was the result of her whims and autocratic attitude, Khaleda alleged.
Expressing sympathy for the families of the two drivers killed in last three shutdowns, she said the government had created chaos by deploying ruling party cadres to repress the opposition activists.
The BNP chief demanded release of all leaders and workers arrested during the last three days.
She said the prime minister had rewarded corruption by reinstating Suranjit Sengupta as minister without having him take the oath. Suranjit had resigned amid widespread criticism after his APS was caught with bribe money.
Khaleda claimed the foreign media published a list of 100 BNP leaders who were targets of abduction or murder; even a secret killing squad was formed for this purpose. She, however, did not go into details.
BNP standing committee members and senior leaders, including acting secretary general Mirza Fakhrul Islam Alamgir, were present at the conference.