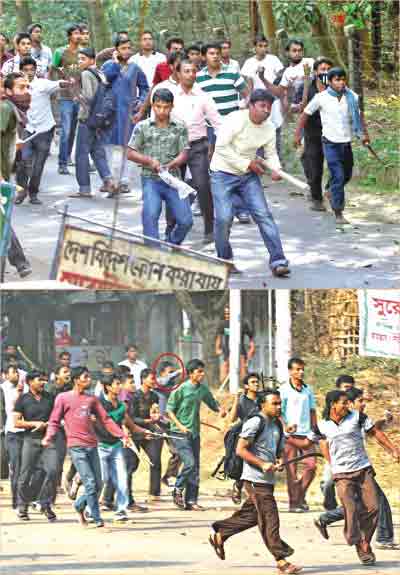 Two Chittagong University students were killed and around 40 others injured in fierce clashes between Islami Chhatra Shibir and Bangladesh Chhatra League activists on the campus yesterday.
While Shibir, a pro-Jamaat-e-Islami student organisation, claimed both the victims to be its members, BCL said one of them was an activist of the pro-Awami League student body.
The dead, Masud bin Habib, a student of English, was the general secretary of Shibir's Suhrawardy Hall unit and Mujahidul Islam, a student of Zoology, was an activist.
Shibir has called a half-day hartal in the port city today to protest the killings.
Fearing further tension on the campus, the CU authorities shut the university till February 16 and ordered all resident students to vacate the halls by 11:00am today.
It all began with an altercation between Shibir activist Al-Amin and BCL activist Sharier Shahin, both second year students of Islamic history, teachers and witnesses said. At one stage of the squabble, Al-Amin slapped and punched Sharier, pushing him to the ground.
On information, Shibir and BCL men -- both groups equipped with sticks, iron rods and machetes -- started bringing out processions from different dormitories at 12:30pm, each side chanting slogans against the other.
When the Shibir men reached Suhrawardy Hall around 1:00pm, BCL activists swooped on them with iron rods, sticks, machetes and other local weapons. The Shibir men counter-attacked with similar weapons, campus sources said.
It was then that the violent clashes spread to Gol Chattar, Amanat Hall and the areas adjacent to Shah Jalal Hall, leaving many activists of both the groups badly injured and turning the campus into a battle zone.
Among the injured is CU Proctor Nasim Hasan, who was hit when he tried to calm both the groups. He was taking treatment at a private clinic.
Several sounds of gunfire were heard during the on-and-off running battle that continued till about 4:00pm, although none was immediately reported to be hit by bullets.
Many panic-stricken women students fell unconscious while others ran for their lives, said Madhap Dweep, a teacher of communication and journalism.
The injured students were initially taken to CU Medical Centre. Of them, 15 were shifted to Chittagong Medical College Hospital where Masud and Mujahidul were declared dead.
Their bodies bore marks of injury all over, including from beating and stabbing, police said.
Talking to The Daily Star, BCL and Shibir leaders blamed one another for the violence.
Badiul Alam, president of Shibir's CU unit, alleged that two of his group's men got killed as police looked on.
The BCL activists swooped on the Shibir supporters with lethal weapons, he said, adding that some BCL men stabbed Al-Amin over a trifle. He also accused the BCL activists of opening fire at them.
"We're preparing to file a case in this connection," he said.
However, MA Khaled Chowdhury, general secretary of BCL's CU unit, said the clash began after the Shibir men cut the veins of Sharier and five other BCL supporters.
He added the Shibir men created the violence to occupy the campus when most BCL activists were in Dhaka to attend a central committee programme.
He also claimed that Mujahidul, one of the dead, was a BCL activist.
Meanwhile, police picked up 11 students, including Shibir's CU unit Secretary Imrul Hasan, in this connection, said Mizanur Rahman, inspector of CU police camp.
Also among the arrestees are Masudur Rahman, Shahed Uddin, Nur Hasan Riad, Mostafizur Raman, Maruf Billah, Safique Uddin, Mahfuzur Rahman, Faisal Ahmed, Jahedul Islam and Morshedul Islam -- all Shibir men.