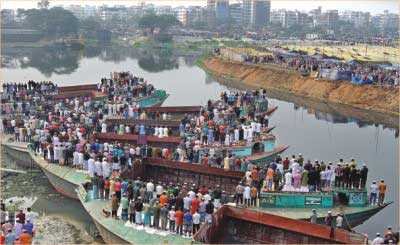 Prayers and sermons marked the first day of Biswa Ijtema -- one of the largest congregations of Muslims -- as it opened on the banks of the river Turag at Tongi yesterday morning.
Six participants died of cardiac arrest and old age complications on Thursday night and early yesterday, organisers said, as the Ijtema opened after Fajr prayers.
Lakhs of devotees from home and abroad are attending the congregation being held in two phases. The banks of Turag -- 20 km from the capital -- turned into a sea of humans as they assembled for Jumm'a prayers at noon.
Maulana Qwari Zobayer, Imam of Kakrail mosque, led the prayers.
The first phase of Ijtema will conclude with the Akheri Munajat (final prayers) on Sunday. The second phase will be held from January 20 to 22.
Tablig Jamaat has been organising the annual congregation, also called the World Muslims' Congregation, every year since 1946.
The three-day meet includes delivery of sermons on fundamental matters of Tablig, prayers for spiritual adulation, exaltation and welfare of the Muslim Ummah, recitation from the holy Quran and Hadith.
Ulema and Islamic scholars from around the world are delivering lectures this year. They will be interpreted to Bangla, English, Arabic and a few other languages.
Devotees from 32 districts of the country are attending the first phase alongside over 15,000 visitors from Saudi Arabia, Oman, Iran, India, Pakistan, Malaysia, Mali, Madagaskar, Cambodia, the US, Canada, Denmark, Finland, Germany, Denmark, Japan, Australia, Brunei and other countries.
Meanwhile, thousands of volunteers are working round the clock to ensure that the event runs smoothly. Security is high and around 12,000 personnel from different security agencies are posted at the venue.
Observation towers have been set up to monitor movement at the venue and close-circuit television cameras are being used at the 17 entrances.
Special measures have been taken to ensure uninterrupted supply of electricity during the event.
FREE MEDICAL CAMP
Around 50 free medical camps have been set up by Rab, Bangladesh Medical Association, Shawadhinata Chikitsha Parishad, Reneta Limited, Ayurbedi Farmeci Dhaka Limited, Bangladesh Imam Samiti Tangi, Ibne-Sina and Farma Vision, Hamdard and Bangladesh Iurbedi Unani Medical Society among others to cater to the visitors.
BUSINESS
As every other year, commerce is thriving around the event.
Md Ershadul, from Kurigram, said he earns about Tk 10,000 to 20,00 each ijtema by selling mats here.
Mamun Islam and Md Sohel, two class-IV students of Pagar Government Primary School at Tongi are selling old paper at Tk 1.00 a piece.
"I have come here to sell water pots," said Rafiqul Islam, an unemployed resident of Tongi.
Other items being sold at the venue include caps, food items and prayer beads.
MOBILE COURT
Three mobile courts yesterday fined shop and restaurant owners a total of Tk 34,000 for selling adulterated food at the venue. They also filed 18 cases against them.
THE SIX DEVOTEES
The six devotees who died were identified as Habibur Rahman, 65, of Sirajganj, Nazibullah, 55, of Chittagong, Mostafa, 66, of Feni, Ratan Sarkar, 55 of Madaripur, Abdul Gafur Khan, 55 of Habiganj and Alimuddin Sarkar, 60 of Kushtia.