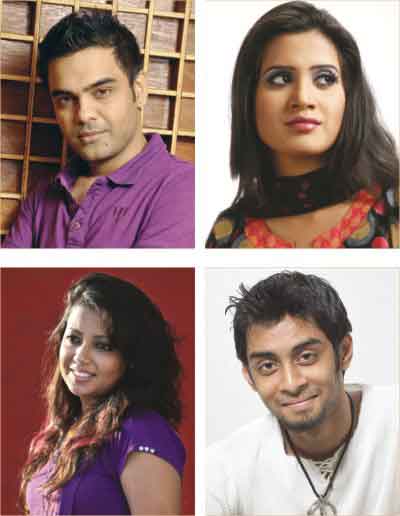 Tough competition dominated the music scene of the country in 2011, with youngsters stirring up a greater fan following, compared to the twinkling shine of the veterans. Tension prevailed in the industry throughout the year, with a major breakthrough being the trend of releasing music through cell phone service providers.
Over 200 solo albums were released last year, compared to only 20 mixed albums and 10 by bands.
"Ahoban", the big budget album by Habib, turned out to be a commercial success, gaining mass popularity with its release through Banglalink.
Arfin Rumey was the busiest among the young musicians -- recording, composing and directing most of the songs in 2011.
Popular artiste Kumar Bishwajit celebrated his 30 years in music. Another fan favourite Asif Akbar came out of an early retirement from music, and started working on his new album.
The most talked about singers were Habib Wahid, Arfin Rumey, Nancy, Hridoy Khan, Kona and Porshi.
Belal Khan was the new find of the year. "Pagol Tor Jonnore", his duet with Nancy, topped the charts. Tousif was another newcomer who earned his place under the spotlight in 2011, while rookie singer Lutfor Hasan seized focus through his album "Ghuri Tumi Kaar Akashe Uro". "Close-up One" stars Kishore, Pulok, Muhin, Atik, Sabbir, Beauty, Rinku, Putul, Rajib, Salma and Ronty were busy throughout the year with studio and stage performances.
The top lyricists of the year were Zulfiqar Russell, Indranil Chattopadhyay, Jahid Akbar, Anurup Aich, Shahan Kabandha, Rana, Gunjan Chowdhury, Shomeshshar Oli and Robiul Islam Jibon.
The dominating music directors of the year were Prince Mahmud, Shawkat Ali Emon, Ibrar Tipu, Habib Wahid, Hridoy Khan, Fuad Al Muqtadir, Arfin Rumey, Suman Kalyan and Sandhi. Lyricist Jahid Akbar captured the attention of the media by penning songs for Indian artistes Kailash Kher and Raghav. Indian artiste Shubhomita and Bangladeshi singer Shahid meanwhile recorded a song written by Anurup Aich -- which was a hit in Kolkata. Composer Tanvir Tarek won his first Citycell-Channel i Award as a music director.
On the other hand, the death of "Close-up One" star Abid cast a shadow of gloom over the entire music industry last year.