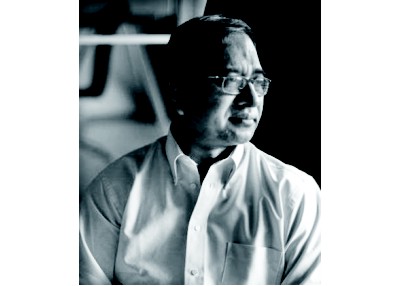 Fakrul Alam, a prominent literary figure in Bangladesh, writes in English. More specifically, he has a particular fascination for post-colonial English literature. He attempts to show us through his essays how a number of writers of the post-colonial era have attempted to bring forth problems deeply rooted in the social structure.
Let me begin by a brief discussion of The Essential Tagore, published by Harvard University Press this year to mark the 150th anniversary of Tagore's birth. In what is the largest single volume of Tagore's works available in English, Professor Alam has translated one letter, two essays, thirty-one poems and sixty-one songs from Rabindranath Tagore's wide repertoire of literary works. In a review Sharmila Sen, a renowned critic and professor of American literature and language, says Alam's translations are very fresh and crisp. To capture the whole essence of the bard, The Essential Tagore (edited by Fakrul Alam and Radha Chakrabarty) attempts to focus on his extraordinary achievements in numerous genres. The book is divided into ten sections so that English-speaking readers can have a fuller and more accurate sense of Tagore literature. Translations for this volume have been contributed by Tagore specialists of international stature, notably Fakrul Alam, Amitav Ghosh, Amit Chaudhuri and Sunetra Gupta. Amartya Sen, the Nobel laureate, has an appreciative note on the work: "In rising to this challenge, the editors and translators of The Essential Tagore have done a splendid job of producing a beautiful volume of selections from Tagore's vast body of writings." As a translator Fakrul Alam is a marked difference from his contemporaries in South Asia.
Alam's first book of essays, Imperial Entanglements and Literature in English, was published in 2007. On first going through the work, this writer noted the lyrical quality of Alam's sentences along with his style of developing them. He is distinctive in selecting words and forming sentences. Obscurity is absent in his writing; the sentences flow along a lyrical tone in the essays. He never tries to lengthen his sentences unnecessarily. The thoughts expressed in his essays are logically developed. The extensive use of connotative words assists him in bringing forth a wide range of themes in a few sentences. But this does not hold him back from revealing the required information. Alam invariably attempts to place words in his essays in such a way that readers are not confused about the possible meaning. The unique power of using words appropriately gives him a special capability of discovering the inner strength of a word.
Fakrul Alam endeavours to research the works of Indians writing in English. He has extensively written on V S Naipaul, Nirad C Choudhuri, R.K. Narayan, Amitav Ghosh, Bharati Mukherjee and Jhumpa Lahiri. Fakrul Alam has written on a variety of themes, never hesitating to put credible information in his essays. For instance, while writing on Nirad C Choudhuri, Alam is frank with his opinions. Without any hesitation, he has attempted to draw out the positive aspects of Choudhuri's contribution to literature. Though Choudhuri has been much derided by literati in South Asia owing to his appreciation of the British legacy in India, Alam puts across to readers the possible reasons behind Choudhuri's position regarding British rule. But here it is relevant to mention that Professor Alam does not agree all the way with Choudhuri.
From the very beginning of Professor Alam's literary career, his area of interest has been R.K. Narayan's stories and his prose style. The reason behind Alam's special fascination for Narayan may be spotted in his long term teaching of Narayan's texts to his students. Fakrul Alam considers Narayan as a 'born story teller' with no fascination for complex socio-economic issues. In an essay, Alam dwells on the exclusiveness of handling various narrative perspectives and craftsmanship in Narayan as a fiction writer. Furthermore, Alam's extensive analysis of two novels, The Financial Expert and The Guide, has helped readers as well as critics in not considering Narayan merely as a plain writer without any art. Here one cannot resist quoting a line used by Alam to describe Narayan's substantiality as a writer: "R. K. Narayan is a major novelist who has, as Yeats put it in another context so long ago, laboured to be beautiful".
Perhaps Alam is the first Bangladeshi-born English writer who has dealt with Edward Said's most quintessential theory, Orientalism. Clearly enough, no other critic in South Asia has been as successful as Alam in discussing Said's theory elaborately. He has two essays on Edward Said. While writing on Bharati Mukherjee, Alam clarifies to readers the prime motifs behind Mukherjee's literary concepts, such as how immigration helps people rediscover lives, how people feel helpless after they have left their own countries. Mukherjee's aversion to multiculturalism, her handling of social and psychological realism, her over-emphasis on successes and failures of South Asian immigrants in North America, her tendency to avoid race distinctions in American society and, overall, her true depiction of the openness of American society have been revealed in Alam's essay, Migration and Settlement in Bharati Mukherjee's Fiction.
To acquaint non-Bengali readers with the richness of Jibanananda Das' poetry, Alam undertook the task of translating Das into English. When Alam's volume Jibanananda Das: Selected Poems came out in 1999 on the occasion of the poet's birth centenary, it was received with widespread acclaim. He thinks that after Tagore, Das is one great literary figure whose poetry can be reasonably appreciated even in translation. In the essay On Translating Jibanananda Das's Poetry, Alam briefly discusses the nature of the poetry and why his English version of Das is distinctive from other translators. Fakrul Alam notes that Das assimilated 'the early Yeats fully in evoking a world suffused with melancholy and tinged with death'. Readers from outside the Bengali-speaking world will have some information regarding Das' views on translations of his poems by both Das himself and others. For instance, when Das sent his poem 'Darkness' for publication in a bilingual issue of Kavita, of which Buddhadeva Bose was editor, Bose suggested some changes in Das' translation especially in relation to Das' use of Bengali names in the English version of the poem. Das, writing to Bose, pointed out that 'these Bengali names had some special connotations which would be lost if English equivalents were used'. Furthermore, Das states that Bengali readers of the English version could be confused if Bengali names were changed. Against this historical background, it can be said that Alam has brilliantly translated Das' poems, keeping the Bengali terms unchanged. Moreover, Alam has added a glossary at the end of his English version of Das' poetry to provide both Bengali and non-Bengali readers with a full account of the connotations of Bengali words used by Das. Professor Alam has expressed his dissatisfaction with some translators' work on Das's poetry. Chidananda Dasgupta's book of translation comes to mind. Alam declares that Dasgupta has unnecessarily used some awkward phrases to indicate a number of Das' Bengali expressions.
On Clinton B Seely's translation of Das, Fakrul Alam asserts that Seely has denied the tonal and formal qualities of Das' poetry. However, Alam also recommends that those who for the first time will go forth to translate Das' poems ought to read Seely's translation with much care. Fakrul Alam confesses in his essay that he has captured 'at least a bit of the lyrical beauty of the original'. The eminent litterateur Syed Manzoorul Islam appreciates Fakrul Alam as a successful translator of Das thus:
"The sights and sounds of Bengal's landscape, its crowded botany and its constantly shifting lights and shadows find their way into Alam's translation. For a reader not accustomed to the kind of intense lyricism and pervasive nostalgia that Jibanananda's poems display, Alam's translation comes through without any distortion or awkwardness".
Alam's richness as a translator, his powers as an essayist and his sense of proportion about the use of words give him an exclusiveness make him amidst his contemporaries writing in English.