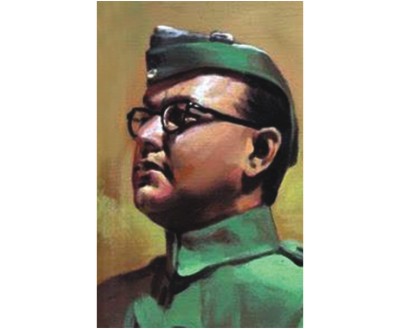 Sugata Bose, author of the recently published His Majesty's Opponent--- Subhas Chandra Bose and India's Struggle against Empire, is a professor of history at Harvard University. He is also the grand-nephew of Netaji Subhas Chandra Bose.
This biographical work was released in Singapore by the country's president N.R.Nathan on July 5, the day coinciding with Netaji's formal announcement of the formation of the Indian National Army in 1943. Netaji Research Bureau chairperson Krishna Bose presided over the ceremony.
Krishna Bose is the mother of Sugata Bose and Netaji's niece through marriage to Netaji's nephew Sisir Bose and the niece of the late Oxford based eminent Indian English writer Nirad C. Chaudhuri. Herself an outstanding parliamentarian and a past leader of Trinamool Congress, she is also a major writer in English, having produced, among other works, Netaji: A Biography for the Young (Rupa 1995). Her latest work, An Outsider in Politics, is a journey through colonial and post-colonial times.
Netaji Subhas Chandra Bose: The Forgotten Hero (2005) is an English language film by the reputed filmmaker Shyam Benegal. The announcement regarding the making of this film was made at a function in London in 2002 to launch the book Shyam Benegal by Sangeeta Datta. The film was completed in two years. It is based mainly on the last five years of Netaji's life, from the time he escaped from Kolkata to his raising an army of 80,000 men. Netaji Research Bureau provided the material for the film. The film, lasting 3 hours and 40 minutes, was shot in Germany, Burma, Kazakhstan and Japan.
Pakistani-American sociologist and historian Ayesha Jalal has co-authored with Sugata Bose, her husband, the work Modern South Asia: History, Culture and Political Economy (1997). Her marital status makes her Netaji's grandniece, and in her own identity, she is the niece of the celebrated Urdu writer Saadat Hasan Manto. All his writings are remarkable. Tamasha--- Jallianwala Bagh Massacre is even more so. Of his many quotations this is unique:
'If a man has to make a woman the centre of his love, why should he integrate animality into this sacred human emotion? Is love incomplete without it? …Is love the name of physical exercise?'
Ayesha Jalal is an extraordinary scholar. Her major work, The Sole Spokesman, examines the years between the 1937 elections and the partition of India, factors which led to the creation of Pakistan and the role of Mohammad Ali Jinnah. Equally profound is her work Democracy and Authoritarianism in South Asia, which examines the history of India, Pakistan and Bangladesh over the last fifty years.
Sarmila Bose, author of Dead Reckoning, Memories of the 1971 Bangladesh War (2011), is the sister of Sugata Bose and therefore a grandniece of Netaji. Her work is controversial and has been a subject of much criticism. Book discussion groups have suggested that she should apologize for her book because it undermines the identity of a nation that is today Bangladesh.
The central crux of her book is numbers--- 100,000 verses 3,000,000. Bose definitely needs to review her research findings, as the validation of her research data was done on uneven ground --- based as they were on conversations with surviving Pakistan army officers and the bereaved family members of Bengalis who went missing or ended up dead in 1971. The juxtaposition is ill-placed.
Farida Shaikh is a sociologist and writer.