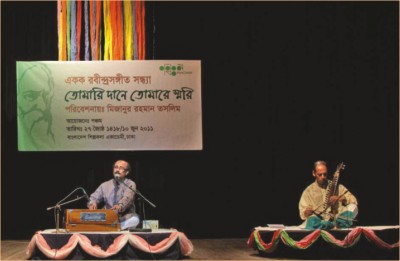 Cultural organisation Pancham arranged an evening of Rabindra Sangeet, featuring up and coming singer Mizanur Rahman Taslim, at the Music and Dance Centre auditorium, Bangladesh Shilpakala Academy on June 10.
In her welcome address, noted Rabindra Sangeet artiste Mita Haque said, "Taslim is an underexposed artiste. I hope that he'll perform more at public events."
Taslim's repertoire mostly consisted of lesser-known Tagore songs, like "Tumi Jeyo Na", "Dak Diyechho Kon Shokale", "Aaji Barshan Mandrito" etc. The audience, at the packed auditorium, seemed keen on his renditions.
Taslim was born and raised in a culturally oriented family. He received his initial music lessons from his father. Later, he took lessons in classical music from Ustad Akhtar Sadmani and was drawn to Rabindra Sangeet when he was a college student.
Explaining why Pancham chose to highlight Taslim, Khairul Alam Shabuj (founder of Pancham) said, "Taslim is a very committed singer. He has a true passion for music. However, he is not well recognised as he shies away from publicity and has hardly done public performances. I believe he deserves exposure."
Poet Asad Chowdhury, and Director General of BSA Liaquat Ali Lucky were also present at the event and wished to hear Taslim sing more often in public.