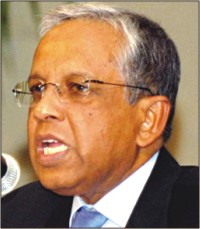 Chief Adviser (CA) Fakhruddin Ahmed yesterday urged the business community to create a new era in the country's economic development by boosting exports through concerted effort of public and private sectors.
"There is no alternative but to increase export to attain national economic growth at a higher rate," he said inaugurating the month-long 13th Dhaka International Trade Fair (DITF) 2008 at Bangladesh-China Friendship Conference Centre.
The CA said all-out efforts are needed to increase export, and the government and private sectors will have to work together to this end.
Commerce ministry and Export Promotion Bureau (EPB) have jointly organised the international trade fair. Thailand is the partner country.
Eight countries are participating in the annual trade show. They are host Bangladesh, Thailand, India, Pakistan, Turkey, Singapore, Japan and the United States.
A total of 395 institutions, including 15 companies from abroad, are showcasing their products in the exhibition at five premier pavilions, 42 pavilions, five premier mini-pavilions, 36 mini-pavilions, 35 premier stalls and 262 stalls at the city's Shere-Bangla Nagar venue.
Entry fee has been fixed at Tk 10 for each adult and Tk 5 for children. The fair will remain open from 10:00am to 9:00pm on working days and from 10:00am to 10:00pm on holidays.
Finance and Commerce Adviser Mirza Azizul Islam, Commerce Secretary Firoz Ahmed, FBCCI Administrator Syed Manjur Elahi and EPB Vice-Chairman M Shahbullah also spoke at the function. Advisers to the caretaker government, diplomats, representatives of the international organisations, members of business community from home and abroad and distinguished personalities attended the inaugural function.
After the inaugural speech, the chief adviser formally opened the DITF 2008 at its venue. He went round some stalls.
The CA said the government has taken up programmes to face the challenges of globalisation, which include further intensifying export diversification and involving country's huge population in these activities to generate employment opportunity and reduce poverty.
To attain the goal, he said the government is focusing on simplification of import-export process, increasing the standard of goods and productivity, application of modern technology in trade and commerce, expansion of export market and flourishing capability and establishing transparency and accountability in all spheres of the business arena.
He mentioned the government has formed Regulatory Reforms Commission and Better Business Forum aiming to improve the business environment and simplify the rules and regulations.
The CA said the country will have to participate in the trade fairs of different countries on a large scale for expanding market of export goods and exploring new markets.
"If necessary, single-country trade fair for Bangladeshi products will have to be arranged in various prospective places, which will bring good results," he observed.
Simultaneously, efforts will have to be carried out for duty-free access to the markets of the developed countries.
In this regard, he said it is imperative to take appropriate steps by the ministries and the departments concerned and the private sector for human resource development.
"It is imperative to improve knowledge, strategy and efficiency to realise facilities in different international forums," he told his business audience.
Different business associations and research organisations have scope to make contribution in this regard, he said.
Besides, the CA said, country's interest will have to be upheld in regional and bilateral commercial discussions in the light of the multilateral commercial system of the World Trade Organisation (WTO).
Citing an impressive contribution of readymade garments to the nation's export income, he said all will have to be more active about increasing backward linkage of this sector, reducing lead time, development of infrastructure and compliance.
He suggested enhancing the capability and productivity to face the situation after the lifting of European Union's embargo on import of Chinese garments from January 2008 as well as to utilise the opportunity in Japan and other potential countries.
He hoped that the Dhaka International Trade Fair 2008 would make a positive contribution to local and international trade arena, particularly increasing export trade.