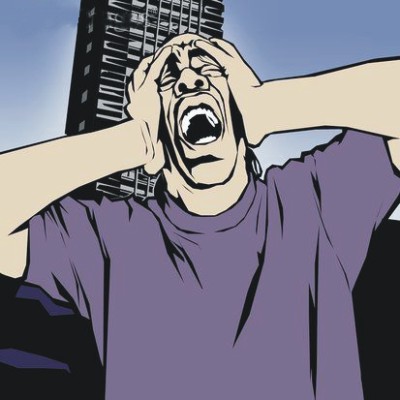 We celebrate world mental health on October 10 every year with lots of enthusiasm to create awareness among people about mental health and illness. Mental health is a neglected issue in our country, like in many other developing countries, because of negative attitude and lack of awareness of mental diseases.
Back in 1948, World Health Organization (WHO) stated that health was incomplete without mental health. Even half a century after that, mental health has not become the essential component of health. In the face of all opposition, mental health service has become more dynamic, though it has not achieved the desired target. Time has come to re-evaluate mental health policy, strategy and action plans.
This year's theme of the day is "Mental Health and Chronic Physical Illness- Need for Continued and Integrated Care." Physical and mental health problems go hand in hand. Persons with physical illnesses like heart diseases, diabetes, cancer and chronic respiratory illness suffer more from depression and anxiety disorders than healthy persons. In the same way, chronic mental patients are at greater risk of developing physical illnesses like heart diseases and diabetes.
That's why physical and mental health problem needs integrated and coordinated health care from the same health centre. This year's theme emphasises the importance of this issue. This can only be achieved by integration of mental health services in primary health care facilities in our country.
Patients with mental diseases are stigmatised in our country, causing isolation and deprivation of basic human rights like opportunity for health services, which is a constitutional right of every person. So, creation of public awareness in mental health and diseases is the key for implementing mental health services. The World Federation of Mental Health started global awareness campaign on mental health in 1992.
The level of awareness and knowledge of mental health in our society is frustrating. Even educated people cannot differentiate between a psychiatrist and a psychologist (the former is a doctor, the other is not). There is also a negative propaganda about psychotropic medication. But, like many other life saving drugs, the medications are marketed after a long series of drug trials (Randomized Control Trial). For most of the psychiatric disorders these drugs are essential.
Psychological treatments are also valuable for management of psychiatric disorders. The modalities of treatment should be evidence based and scientifically proven. There is no scope for personal bias or choice of treatment, but a patient has the right to choose from different therapeutic options.
WHO stated that 60% of deaths around the world are attributable to heart diseases, diabetes, cancer and chronic respiratory illness. A person who suffers from this type of physical illness has increased risk of developing mental disorders like depression and anxiety. The prevalence of depression among diabetic and heart patients is 20%, and 25-39% in cancer patients.
The presence of mental illness makes the treatment of physical illness more expensive, troublesome and time consuming. Most patients do not get psychiatric treatment. A recent study stated that diabetic patients with depression achieve poor blood glucose control due to physical inactivity, alcoholism and drug addiction, negative life style and loneliness.
Depression, like obesity, smoking physical inactivity etc., is also a known risk factor for heart diseases and increases mortality rate from heart diseases. For this reason, the American Heart Association has recommended depression screening for every heart patient. This double affliction makes management of health problems difficult, and increases morbidity and mortality. So, integration of mental health services in primary health care is very important.
A national survey on mental health in adults, conducted by National Institute of Mental Health (2003-05), revealed that prevalence of mental disorders is 16.1%. For this huge number of patients there are only 123 psychiatrists. The ratio is 0.07 psychiatrist per 100,000 population which is absurd, while the ratio for developed country is 10 psychiatrists per 100,000 people. If the current trend continues, more than 100 years are not sufficient to provide adequate numbers of psychiatrist. So integration of mental health services in primary health care is now a timely need.
For effective implementation of this strategy, people's participation should be ensured in the community based mental health activities in all levels -- upazilla, district, division and tertiary care level. Training of general doctors (4,500 doctors so far trained), upgrading of psychiatry in undergraduate medical curriculum and incorporation of mental heath issues in school level textbooks are important steps for achieving the desired goal. Electronic and print media can play a pivotal role in creating awareness among public regarding mental health.
Very recently, Bangladesh received the Millennium Development Goal (MDG) award in health for reducing child mortality rate. For achieving success in developmental activities people's health should be ensured. But without paying due attention to mental health people's health cannot be improved.
For this reason, better investment in mental health services is necessary. Allocation of at least 5% of health budget should be provided for mental health, but is only 0.4% at present. Mental Health Act is yet to be passed. On this auspicious day we hope that government will take necessary steps to enact Mental Health Act to protect human rights of mental patients, which will definitely brighten our image in the international arena.
Dr. Zillur Rahman Khan Ratan is a Psychiatrist, Department of Psychiatry, Dhaka Medical College Hospital. E-mail: mzrkhan@gmail.com