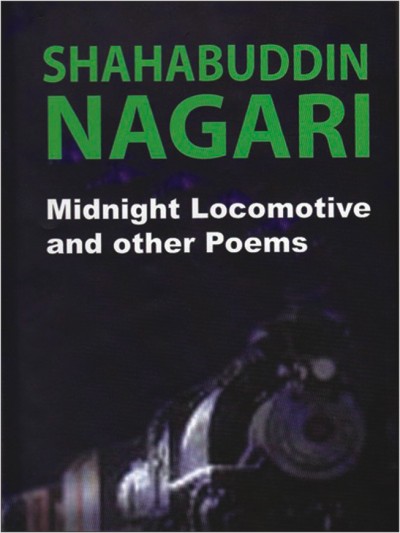 Shahabuddin Nagari is a person whose aptitudes spear into numerous genres of literature.
He expands from poems to novels and yet goes on. His talent has been multifarious. Think here of scriptwriting, compositions and lending his voice for the songs he creates.
Shibnagar of Chapainawabganj is Shahabuddin Nagari's birthplace. Being the third eldest of seven siblings, his responsibility at the house was insurmountable. His father, Late Mohammed Sabiruddin, was a government employee; hence, his job description required him to travel about Bangladesh. Nagari's mother, Late Sayema Khatun's contribution to the wellbeing of the family was enormous. It is perhaps Shibnagar in Chapainawabganj of mango fame that first aided Nagari's talents to surface; whether it was the blood-tied roots or simply fate, Shibnagar was undoubtedly the origin of Nagari's success.
The work under review, Midnight Locomotive and Other Poems, is a collection of altogether eighty six poems by Shahabuddin Nagari. The focal point of Nagari's writing is a reflection of his sensitivity. For him, love is a key component of his literature. However, a yearning for the past, for social issues and the occasional sadness that encircles human life are also highlighted in his work. The portrayal of Nagari's feelings comes through the exceptionally descriptive. Not only does it paint a vivid picture of his memories, it also allows one to virtually live the experiences Nagari acquired as an adolescent.
The culture of Bangladesh and a love for his country is a critical factor in Nagari's writing. This fact is unmistakably etched in the poem, Our Dreams:
"I touch the river, water fills up and it flows to the brim / brim full of water abounds in silvery hilsa / If I look at a barren garden it is full with flowers, [r]ose, marigold, hasnahena / If I dream, Bangladesh also dreams a better future super powers bow down to our dreams."
The poet informs the readers of their potentials; stating the possibility of wealth in unimaginable places. With a deft touch of the hand or through the magic of sight, the author instills in one the ability to transcend the boundaries of the ordinary. He dreams big and insists we follow suit. Therefore, Nagari believes, his motherland, Bangladesh, dreams along with him. He envisions the rest of the world bowing down to his love, Bangladesh.
"Just now postman delivered me an envelope, / Whose affectionate fingers decorated these Bengali alphabets / My father's letter was it. The letter fervently asks me to visit Heaven." --- Father's Letter
Shahabuddin Nagari's emotions erupt in this piece of writing. As this book of poetry is a record of his creative imagination in the period between 1999 and 2009, the poet painfully, yet realistically, remembers his father. Creativity never fails to substantiate itself in Nagari's writing. The poem artistically reminds everyone of death whilst ingeniously creating an emotion of truthful sorrow:
"Robots of neo-Hitler come out [...] showing insolence and burn down vast oil fields in Iraq. Towns and cities are devastated by bombs. Doctors bring out wild splinters from the bleeding bodies of women and children. Robot doesn't have brains. [...] Grievous insult of human rights and arrogance of super power made the weapon less destitute come out in the street" --- Coffin of the United Nations
This poem perfectly fits into the category of a social issue of great concern. The magnitude of this topic is vastly notable. Shahabuddin Nagari is not a person whose work only envelopes certain criteria. Rather, he branches out into novel situations, writing about the controversial. Though this poem is partly ambiguous, Nagari clearly sympathizes with Iraq. However, one idea he leaves to the readers to decode is who the word "robot" is referring to. This characteristic is praiseworthy and it magnets one to constantly revolve around Nagari's writing. It is instinctually stimulating when an author forces the readers to decipher certain aspects of his writing.
"In winter the trees shed leaves, in spring flowers bloom. There's a lot of sweet memories, follies were shelved. Addition do not harmonize, its two plus two is three." Birthday
The intelligence and luminosity this poem exhibits is exemplary. Shahabuddin Nagari's nostalgia is apparent through the sentiment presented. Sweet memories fail to allow the synchronization of a simple mathematical equation. Hence, the poet is hinting at his childhood; reminiscing on what has been. The relevance of Birthday is noticeable due to Nagari's compassion for his childhood.
The talent that is Shahabuddin Nagari is an excellent example of an apparatus of the emergence of grandeur. Ever since the 1970s, the multifaceted writer has continued to intrigue the audience. His style of writing is unique enough to entice the uninterested. It seems as if a certain gravitational effect is on a constant functionality. Nagari never disappoints the fans who eagerly await his next book, musical album or drama.
From writing songs and poetry, to scriptwriting and singing, Shahabuddin Nagari is always challenging himself to do better. A 'never satisfied with the status quo' attitude defines this gifted person. Midnight Locomotive and other Poems is no ordinary book. Every page is loaded with the emotional. A certain mystique and charisma magnetize the reader all the way, from poem one to eighty six. Not only is this book perfectly suitable for Bangladesh, its charm would appeal to an international audience as well.
These poems of magnificence were originally written in Bengali, the poet's mother tongue. The transition from Bengali to English occurred with the help of three specific people: Siddique Mahmudur Rahman, Tahmidal Zami and Naseef Amin. Their expertise is imprinted in black and white in Midnight Locomotive and Other Poems. Poems translated are occasionally misinterpreted or the emotions encircling the moving originality are forgotten. However, the three translators' articulate rendering of the original is apparent, as they have succeeded in maintaining the author's thoughts and have described each sentiment with the very passion Shahabuddin Nagari intended. Consequently, the writer is nothing short of a legend. The intrigues his words hold are beyond the imaginable. The astonishing wizardry produced from his pen startles even the critics. Notes on the poet, notes on the translator and a glossary of the non-English terms of the poems are valuable additions in this work.
Lastly, Pathak Shamabesh's excellence is reflected in the product, Midnight Locomotive and other Poems. Everything ranging from the book's cover to its layout is fantastic. Pathak Shamabesh has truly an intellectual approach to publication.
Sakif Alam is a student of Corporate Law, Carleton University, Ottawa, Canada.