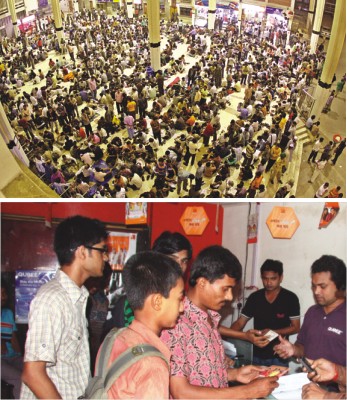 The coming of Eid means new clothes, good food, celebrations and a time to be close to friends and family. For a very huge number of people in Bangladesh, this would mean travelling back to their home districts. But that's when you remember that you have to purchase the railway ticket and you squirm at the thought of standing for hours at the railway station behind a humongous queue, just to find at the end that tickets are all sold out. And then you think, "Oh why not just skip it this year?"
Some of our mobile phone operators have understood this plight and came up with a hi-tech solution that helps purchase the ticket alright, but minus the hassle.
Banglalink, in collaboration with CNS Ltd and Bangladesh Railway, launched a Mobile Train Ticket service. Through this service, a person can purchase a railway ticket by sitting in the comfort of one's home by a simple SMS. A railway ticket can also be purchased at any Banglalink Customer Care Centre or one of approximately 500 'Banglalink Mobile Cash Points' located in various areas of Dhaka and Chittagong.
Once the ticket has been purchased, a SMS is sent back with an E-ticket number. That is where half the work is done. Finally, on the day of one's journey, the passenger can go to the station just an hour before departure and get a printed ticket in exchange of the e-ticket number and the mobile phone number.
Solaiman Alam, head of PR and communication of Mobile Financial Services and High Value Projects of Banglalink, says, "In Dhaka, a person has to purchase a railway ticket either from the Komalapur railway station or the Airport Road station. For a person residing in Mirpur or Narayanganj for instance, this becomes quite taxing, as he/she has to sift through the usual Dhaka traffic to get to any of those two stations."
"So we thought, since we were already doing a lot of other financial transactions through the mobile phone (like bill payment and cash transfer) and also because there was such a huge demand for this type of service, we should go for it. Bangladesh Railway and CNS have both been very proactive about this and helped make this possible."
At the moment, these services are available for any destination starting from Dhaka or Chittagong. These two are the cities where such services are much in need too, considering that both are metropolitans and the outgoing crowd is large.
"As we already have competition in this field, it was necessary to give customers something more than what they were already getting," says Alam.
So, it was decided that the service would be available to not just Banglalink customers, but to customers of any mobile operator company.
"This would take us one step ahead of our competitors, who were providing this kind of a service to their own customers only. Moreover, we decided to install special ticket printers in our Customer Care Centres and various Banglalink Cash Points, from where passengers can get their tickets printed."
With Eid-ul-Fitr around the bend, there could be no better time to launch this service.
"Since 10 percent of the tickets have already been reserved for us, chances of the e-tickets getting sold out are less," says Solaiman.
Now, if this service could be upgraded for bus stations, then travelling would seem like a breeze.
"Upgrading this service to the bus stations for some of our Volvo buses could be possible, and we have not ruled out the possibilities."
With increased reach, reduced costs, convenience and speed, this service helps Bangladesh move a step closer to the government's vision of a Digital Bangladesh.