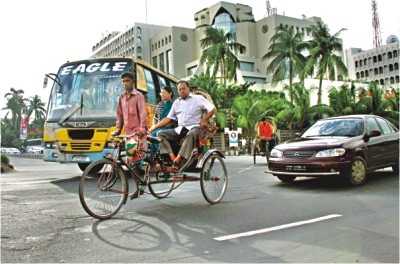 Unabated plying of slow-moving vehicles like rickshaw and rickshaw-van on different VIP and busy city streets restricted for non-motorised transport (NMT) slows down traffic movement, increasing traffic congestion and chances of accidents in the city.
Rickshaws, especially scores of rickshaw-vans, are seen riskily plying the Airport Road violating official orders even during daytime.
The official average speed limit of motorised vehicles on this road is 50 km per hour but vehicles running on it exceed that limit more often than not raising the risk factor even higher.
In addition, a huge number of school vans with students on board ply different city streets, which were made off-limits to NMT, where the risk of accident is very high.
In between 2002 and 2004, the government banned rickshaws from some bustling city streets including the Mirpur Road between Gabtali and Russel Square and from Kalabagan crossing to Azimpur via New Market.
Other city streets made off-limits to NMT over the years include the ones from Russel square to Sonargaon, Sonargaon to Moghbazar crossing, Moghbazar to High Court via Kakrail mosque crossing, Elephant Road to High Court, Shahbagh to Airport Road, Ittefaq crossing to Bangabhaban, Kamal Ataturk avenue, Golapsha Mazar to High Court via Bangabazar crossing, Baily Road and Mintoo Road.
However, that government directive is of no effect on most of these streets.
A number of rickshaw pullers claimed they gain access to some of these roads by paying the on-duty traffic police or ansar Tk 5 to 10 in bribe.
"I've given Tk 5 to an ansar near Moghbazar rail crossing to go to Karwan Bazar," said Amjad, a rickshaw puller, whom we met on his way to Karwan Bazar recently.
Zakir, another rickshaw puller, whose rickshaw was plying the Panthapath Road, said he was able to enter the road as there was no one to stop him.
"Many rickshaw pullers take the chance to enter these streets between 1:00pm and 2:00pm when the traffic police go for lunch," he said.
Dr SM Salehuddin, additional executive director of Dhaka Transport Coordination Board (DTCB) said rickshaws and rickshaw-vans plying the restricted roads indicate that the traffic control system is in poor condition.
"They slow down the normal vehicular movements and increase risk of accidents," he told The Daily Star, adding that the permissible average speed of motorised vehicles on the city streets is 20 km per hour but it comes down to 7-8 km per hour due to the plying of rickshaws, he said.
DTCB made three roads - -Mirpur to New Market Road, Science Laboratory to Matshya Bhaban Road and Airport Road - - restricted for NMT and has a plan to do the same for all the main corridors of the city including Rampura Road, Paltan to High Court Road and Kuril Bishwa Road, Dr Salehuddin said.
Proper functioning of the recently introduced automatic traffic signalling system is also being disrupted due to the frequent movements of NMT on the roads made off-limits to them, said Md Ashiqur Rahman, who is the superintending engineer of Dhaka City Corporation's (DCC) Traffic Engineering Division.
"All automatic signals have been installed considering the speed of motorised vehicles but plying of NMT reduces their mobility," he added.
Sujon, a private car driver, has some serious complaints against slow-moving vehicles such as rickshaws and rickshaw-vans plying the city's busy streets.
"It becomes very difficult to control speed when a rickshaw or rickshaw-van comes on the way, especially at night," he told The Daily Star yesterday.
Contacted, Safiqur Rahman, joint commissioner (traffic) of Dhaka Metropolitan Police, said they have been continually conducting drive against this.
"We are seizing rickshaws plying the streets made off-limits to them and the drive will continue," he said.
According to DCC sources, there are 79,616 legal rickshaws, 7,916 rickshaw-vans, and 120 pushcarts but at least four lakh unauthorised rickshaws, nearly 50,000 rickshaw-vans and 20,000 pushcarts ply the city streets currently.