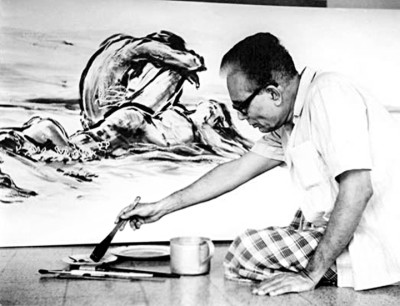 Marking the 34th death anniversary of iconic artist Zainul Abedin, a discussion and prize-giving programme were held at the hall room of Shilpacharya Zainul Abedin Sangrahashala (art gallery) on May 29.
State Minister for Cultural Affairs Advocate Promod Mankin spoke at the discussion as chief guest. Additional District Commissioner Farid Ahmed was present as special guest. Dr. Zinat Mahrukh Banu, Keeper, Department of Ethnography and Decorative Art and Jahangir Hossain, Keeper, Department of Contemporary Art and World Civilisation, National Museum, were the discussants. Alam Ara Begum, Secretary of National Museum, presided over the programme.
Dr. Bijoy Krishna Banik, Deputy Keeper of the Sangrahashala, delivered the welcome speech.
The speakers were of the view that Zainul Abedin was a pioneer among Bengali painters. Terming the Sangrahashala "a national asset," the speakers said that emerging talents should be encouraged so that we get more artists like Zainul.
Earlier, on May 21, an art competition for the children was held at the Sangrahashala premises. A total of 175 children took part in the competition in three groups -- 'Ka', 'Kha' and 'Ga'.
Anika Tasnim Haque, Afroza Haque Srishti and Prattasha Majumder won in 'Ka' group; Nazia Ebnath, Mahbubul Haque and Pushpita Tahsin from 'Kha' group and Taskia Binte Islam, Swakkhar Das and Arnab Chakrabarti from 'Ga' group were the winners.