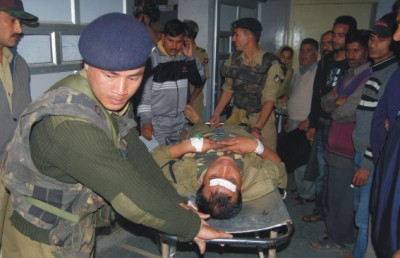 Militant violence is surging in Indian-controlled Kashmir after years of declines, officials say, warning of increased insurgent infiltration from Pakistan and a bloody summer ahead.
Nearly every day, the crackle of gunfire and the roar of mortars can be heard somewhere in the towns and forests of the scenic Himalayan region, which is claimed by both India and Pakistan but divided between them.
Most recently, Indian soldiers have been hunting Muslim militants for more than a week in a thickly forested area northwest of Srinagar, the region's main city. The operation, one of the largest in years, has already left 11 suspected rebels and four soldiers dead amid the rugged terrain, said Indian army spokesman Col Vineet Sood.
"The army is gearing up to meet new challenges as this summer is going to be a hot summer in terms of security," India's Defence Minister AK Antony recently told reporters. Summers have traditionally been a time of increased fighting in Kashmir, as snow melts in Himalayan mountain passes and militants are able to slip across from the Pakistani-controlled portion of the territory.
"Infiltration from the Pakistani side increased last year and this year also there are serious attempts," said Kuldeep Khoda, the police chief of Indian-controlled Kashmir. Police say they have arrested 10 Kashmiri teenagers just this month six allegedly trying to cross to the Pakistani side for arms training and four looking for weapons training on the Indian side.
According to police records, 76 suspected militants and 23 members of the police and the army have been killed in the first four months this year. Thirteen civilians have also died in the conflict.