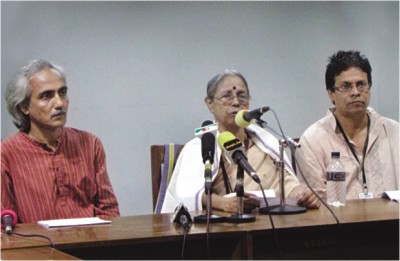 Leading music-dance school and cultural organisation Chhayanaut is offering a new course on Bangla language. Titled "Bhashar Alaap", 10-month-long course will have its orientation on June 19. Through the course, Chhayanaut intends to enrich the students' cultural identity.
Eminent cultural personalities will teach the classes. Initially the faculty will include veteran media personality Atiqul Huq Chowdhury, reciter Bhaswar Banerjee, Dr. Golam Sarwar and Ashraful Alam. The faculty will be extended gradually.
The curriculum will focus on both grammar and literature. The course will also highlight traditional geet, akhyan, Rabindranath Tagore, Abanindranath Tagore, Mohanlal Gangopadhyay, Pramath Chowdhury, Kazi Abdul Wadud, Rani Chandra and Dwijendralal Roy.
" 'Bhashar Alaap' will feature oral practices, reading out Bangla classics as well as conversations among the students," said Dr. Sanjida Khatun, president, Chhayanaut.
Application forms for enrolment are available (starting from today) at Chhayanaut Sangskriti Bhaban, Dhanmondi in Dhaka. The forms will be available till May 30. Final selection will be done through interviews. The course will accommodate 50 students. Two classes on Saturdays will be held at Chhayanaut.
The organisation made the announcement through a press conference held yesterday at its Ramesh Chandra Dutta Memorial Seminar Room. Apart from Dr. Sanjida Khatun, Abul Hasnat (Chhayanaut executive member and editor of the literary magazine Kali O Kolom), Md. Nasiruddin (course co-ordinator), Mir Barkat (course teacher) and Kamaluddin Kabir were present at the conference.
Young individuals, including college and university students as well as working professional are eligible to apply for the course.
"The course's aim is not to develop one's pronunciation and recitation skills, but rather to create a better ambience to exercise our language," said Md. Nasiruddin.