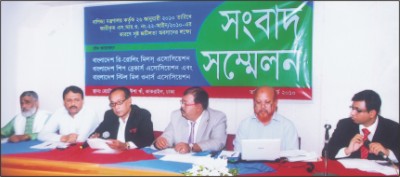 Ship breakers and MS (mild steel) rod producers yesterday demanded that the government cancel the order that restricts entry of any breakable ship into Bangladesh without a pre-cleaning certificate.
They said no countries in the world require such a prerequisite for ship breaking.
At a press conference in Dhaka yesterday, they also termed the statutory regulatory order (SRO) issued by the government in January as "unrealistic", adding that it would ruin the ship breaking and re-rolling mill industries of the country.
The government issued the SRO, restricting entry of any ship into the country's maritime territory without having pre-cleaning certificate.
"Our competitors such as China, India and Turkey don't want such certificates for breakable vessel import. And so, we will lose competitiveness in the global market if the government doesn't cancel the SRO," M Anam Chowdhury, a consultant of Bangladesh Ship Breakers' Association (BSBA), told the press briefing.
BSBA, Bangladesh Re-rolling Mills Association and Bangladesh Steel Mills Owners' Association jointly organised the press conference in response to issuing the SRO that has prompted the ship breakers to call a strike from February 21.
After the order was issued, Chittagong Customs barred at least 10 ships from entering the country's maritime territory, as those did not have pre-cleaning certificates.
The ship breakers also pointed to a controversial global treaty formulated in 2009 by the International Maritime Organisation that allows ship owners to export ships with hazardous materials.
The BSBA consultant said more than 150 countries including Bangladesh signed the first ever agreement on ship-breaking.
Talking about the Basel Convention, which was designed to reduce trans-boundary movement of hazardous wastes and became effective in 1992, M Anam Chowdhury said the treaty does not deal with breakable ships. Bangladesh is one of the signatories of the Basel Convention.
Bangladesh Re-rolling Mills Association President M Ali Hossain said the government should relax the environmental rules, primarily, to help develop the industries of the country.
"If the deadlock in the ship-breaking industry continues, around 400 steel and re-rolling mills in the country that pay over Tk 1,000 crore to the government as duties will face destruction," said Hossain.
The total investment in the re-rolling mill industry is over Tk 5,000 crore, he added.
BSBA Vice President Mohammad Mohsin said they are working to reduce casualties in the ship-breaking sector and have adopted many safety measures to avert accidents.
About the high rate of casualty in the sector, he said it was "propaganda" by some nongovernmental organisations.
Shaikh Fazlur Rahman Bakul, chairman of Bangladesh Steel Mills Owners' Association, was also present.