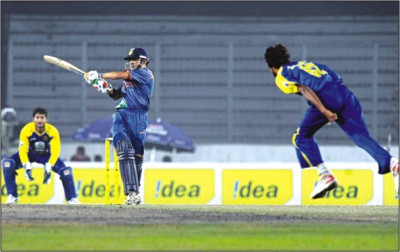 Lady Luck once again smiled on Kumar Sangakkara, but the Sri Lankan captain's experiment to bat first backfired as India crushed them by eight wickets on Sunday to confirm the final clash with the same opponents at the Sher-e-Bangla National Stadium in Mirpur on January 13.
"Keeping the final in mind we took the decision to bat first as we have no experience of fielding second in the tournament, but we didn't bat well today because we were careless," said Sri Lanka coach Trevor Bayliss in the post-match briefing.
India too experimented with the team as they rested key players like Virender Sehwag, Harbhajan Singh and Ashish Nehra, but they will definitely come up with the full-strength side in the final as the Sri Lanka coach said that they were ready to take the challenge.
"We are ready for that challenge," he added.
This is the first time that bowlers dominated on a flat track as India skittled their opposition in 46.1 overs for a paltry 213. And it was also the first time that a bowler, Zaheer Khan, got the man-of-the-match award in the tournament.
"It is highly satisfying that a bowler has got the man-of-the-match award on this sort of track. It is becoming evermore difficult for bowlers to dominate, considering the way one-day cricket is shaping up. Especially it is hard to contain batsmen in the batting powerplay. We are still trying to adjust to the new format," said Zaheer who took three wickets for 38 runs.
"If we can be consistent in our bowling, we will be successful in the future. In this format, the most important thing is to take wickets as it is hard to contain them. Basically Twenty20 cricket is what changed the approach to the one-day game," observed the left-arm bowler.
Another paceman Sudeep Tyagi, who played in this tournament for the first time, has impressed Zaheer. He believes like his captain that if there is a specialist bowling coach in the side, these young bowlers will benefit a lot.
India take on Bangladesh today in the last group match which is essentially a dead rubber. Zaheer though thinks that they won't be taking this match lightly.
"Every international game is important because we represent the country and we feel proud for it."
Zaheer also praised the innings of young batsman Virat Kohli who scored 71 not out to see his side home. He said that this is all a good headache for the team management as the batsmen are all grabbing their opportunities.