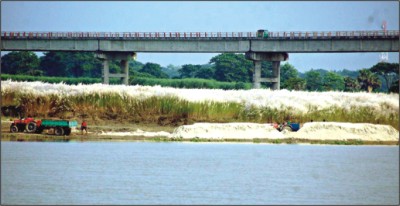 Villagers seized seven dredging trawlers while extracting sand illegally from the Feni River in Nangolmora area in Ghopal union under Chhagalnaiya upazila on Sunday.
They handed over the trawlers to Chhagalnaiya police. Police later kept the dredger-fitted trawlers under custody of Ghopal Union Parishad chairman Azizul Haque.
Locals and administration sources said, the sand quarry in the Feni River adjacent to Nangolmora village has not yet been leased out for new year. But an influential quarter was illegally extracting thousands of cubic feet of sand everyday from the river using several dredgers in engine driven trawlers for long and depositing the sand in Mirersarai area in Chittagong on the other side of the river and was selling the sand from there.
The villagers were opposing extraction of sand from the river in Nangolmora area as they were being affected by river erosion.
Sources said, 10 engine trawlers fitted with dredgers led by Jasim Member of Mirersarai area started extracting sand from the river Sunday morning. Protesting it, local people gathered at the spot and chased the trawlers.
Three trawlers managed to flee but people seized seven trawlers along with dredgers. They informed Chhagalnaiya police and when police reached Nangolmora they handed over those to police.
Feni additional deputy commissioner (revenue) Nazrul Islam said, necessary legal action would be taken after getting detailed information about the incident.