A Pioneer of Modern Drama
Life and works of a vanguard of modern Bengali drama

Tamanna Khan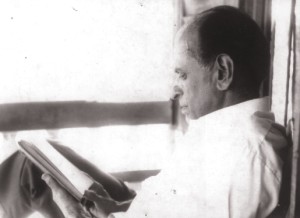 Reading books remained his favourite pastime all through his life. Photo: Courtesy
At the onset of the twentieth century, the Bengali Muslims of India had begun to realise the importance of education and progressive thoughts to establish their political and economic identity. The University of Dhaka was a result of that realisation and soon became the cultural hub for the educated Muslim class of East Bengal. Yet the start had not been easy. The conservative Muslim community would shy away from sports and cultural events and often become the object of mockery. One student of the Muslim Hall (then located at the Burdawan building) decided to stand up against such insult. Though not a sports personality, he took up running and practiced everyday at the nearby Racecourse ground (now Suhrawardy Udyan). Consequently, in the next inter university sports tournament he successfully managed to erase the misconception by winning a prize in every single athletic event. This determined man was Natyaguru Nurul Momen.
Born on November 25, 1906 in Alfadanga, then a part of Jessore, to a progressive zamindar family, Nurul Momen fortunately had access to a huge collection of books at their village home. His inclination towards literature led him to finish reading all 2000 books in that library before his matriculation from Dhaka Muslim High School. After completing Intermediate School Certificate from Dhaka Intermediate School in 1926, he got admission in Dhaka University for his Bachelor of Arts degree. It was here that he got introduced to the passion of his life: drama.
While he was staying at Muslim Hall, all the halls of University of Dhaka decided to stage Rabindranath Tagore's play "Muktadhara". With inspiration from the notable litterateur Quazi Motahar Hossain, Nurul Momem along with a couple of Muslim students volunteered to act in the play. Initially, discrimination against the Muslims got him an insignificant role but through his performance he soon won the heart of renowned novelist Charuchandra Bandyapadhaya and received the main role of "Botu". Although he won prize for his acting, but that was his first as well as last acting in a play.
Nurul Momen received the "Ekushey Podok" in 1978 for his literary contributions. Photo: Courtesy
His entry into the world of literature also came through a challenge. His first poem "Shandhya (Evening)" which was later published in a half-yearly magazine called "Dhrubotara", was written at the age of ten as a bet with a plumber who provoked him to write a poem like Tagore's "Sonar Tori". However, after his initial success he gave up writing poems and did not write one till the 1980s.
His identity as a playwright came about in 1943 when he wrote "Rupantor (Transformation)" for All India Radio. Unlike other Muslim plays, "Rupantor" was not about Islamic-heroism or historical events; rather it was a progressive comedy where the only female character took up a job at her husband's office in disguise. The modern aspect of the plot was quite unthinkable at that time; Sabera Mustafa who later played the main role "Rijia", at the stage of University of Dhaka says, "At first I could not gather up the courage to do the role because the character was very modern and smart and not at all like me but he (Nurul Momen) urged me to act in the role saying that I can and must." The drama received much praise not only in Dhaka but also in Kolkata where it was published in the Puja issue of the popular Anandabazar magazine with only two other writings, one was by Tagore and the other was an essay on painting by Nandalal Bose.
Interestingly, Nurul Momen's next play turned out to be a tragedy called "Nemesis", which again set a milestone in the history of Bengali plays because of its unique feature and modern plot. National professor Kabir Chowdhury explains, "Nemesis is his (Nurul Momen's) most famous work. It is an experimental drama where through dialogues the main and only character remembers his past. It shows how a promising personality falls prey to greed and loses his morality. Though it is a play based on one actor, the scope of the plot is wide and a number of other characters come in through the main character's reminiscences."
Before Nemesis only four playwrights had attempted a one-character play, but none had the full form of a play continuing for one and a half hours without break. Nurul Momen did not only adorn the play with witty dialogues, but also made the character recite poems and even sing. His conversations over the phone, with neighbours, with his conscience and lastly with his murderer is drawn in such an ingenious way that the absence of these characters on the stage is never felt. Not for once the audience can get bored because of the unpredictable turn of the events cleverly knitted in the plot.
Renowned director Atiqul Haq Chowdhury says, "He was a witty person. Before him the presence of wit in Bengali drama was not there to that extent. Besides, he skilfully intertwined the relationship between the zamindar, middle and the agricultural classes in his plot. He worked simultaneously at all three media : television, radio and theatre." Sabera Mustafa, one of the first Muslim women who acted in theatre, says, "Wherever there was a drama, Nurul Momen Sir would be there." In fact, he used to be present at the rehearsals of all his plays, so that the main theme of his play is not overridden by direction, recalls Atiqul who directed "Eituku ei jibontate (In this short life)", a play only with female characters depicting the hostel life of Rokeya Hall residents.
Though he studied and practised law at Kolkata, the dry nature of the profession did not suit him. As a result, after the Partition he joined the University of Dhaka as professor in 1945. As a teacher he was very friendly, recalls Asaduzzaman Noor, renowned actor and politician; he helped me with my admission at the law department even though my intermediate result was not good. Atiqul who was also his student at the law department recalls that he would often sing songs and recite poems, written by him, to shun away the monotony of the law class.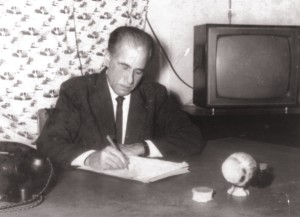 His specialty in satire is evident even in the title of his plays, for instance "Is Law an Ass?" Photo: Courtesy
The BBC Bangla programme came about through Nurul Momen and his friend Nazir Ahmed's initiatives, when he went to London for higher studies in 1948. His youngest son Mahmood Nurul Momen says, "It was a one-hour weekly programme, where Nazir Ahmed looked after the news part and he took charge of the literary programmes. The entire programme was called Anjuman. The children's programme named Kakoli had become very popular at that time along with his opening lines 'London theke dadavai bolchi (it is grandpa speaking from London)'."
However this pioneering and respected figure tainted his own reputation by writing Pakistani government solicited scripts during the Liberation War. Sabera who was compelled to act in the scripts says that she had to act with a heavy heart and shame because a person at the Pakistan Radio had threatened to complain against her to the government. She being the wife of a renowned political journalist KG Mustafa, who was hiding at that time, had no other choice. Professor Chowdhury provides a similar view that the reason why Nurul Momen became less known after liberation was because some of his opinions broadcasted in the radio in 1971 was in favour of the Pakistanis. On the other hand, Asaduzzaman Noor says that the reason why his plays are not staged anymore is perhaps for the fact that the content and form of the plays written in the past are no longer relevant today. Yet he agrees that to portray the work of such pioneering personalities to the present generation, his plays can be given contemporary adaptation, like Shakespeare's works. Atiqul Haq thinks that his plays should be included in the textbooks and theatres should be named after this multi-talented personality who died on December 16, 1990, leaving behind his classic and avant-garde drama and essays.
Copyright (R) thedailystar.net 2010