Art
The Quintessence of Liberty
Fayza Haq
Hashem Khan, with his infectious smile, French goatee and incredible bonhomie is a well-known figure in the art world of Bangladesh. Having won awards and accolades galore, both at home and abroad, he is now holding a new solo around the middle of December at the National Museum. Famous for his paintings on nature, especially exotic birds with flamboyant plumage, and the Liberation theme--he is also a well known and sought after illustrator of books. Educated at Shantiniketan, he remains a teacher nonpareil. He is often seen at the opening of local art exhibitions, to add to the flow of viewers. Thus his image appears in innumerable newspapers, with flashing smile and his poised bearing, as in "Rooted Creativity" exhibition at Bengal Gallery.
In his exhibits, Hashem Khan has painted and sketched on Victory Day with passion and zeal. Being involved in the freedom of Bangla speaking people since the Language Movement of 1952, having been injured at that occasion and in 1971, he strives with his brush and pen to create images on his favourite themes. The struggle and strife for liberation have inspired him to fill the entire gallery walls on his pet subject.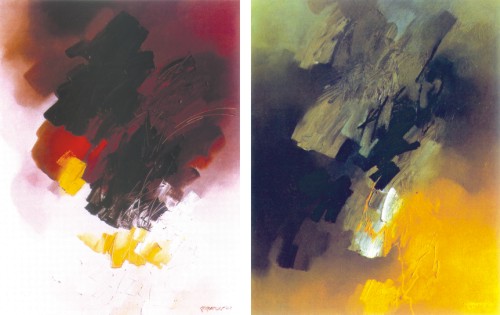 L-R: Uprise. oil on canvas, 112x90cm, 1999. Uprise. oil on canvas, 118x90cm, 1999.
"I paint from my memory or mingle it with the present times," he says, " The Liberation War was for peace and harmony. In "Victory-1971"(oil) on this theme, I've used contrasting black and white for symbolic effect." Images of raised waving hands are signs of victory. We have the memory of much pain and bloodshed. The stark black is for blood and agony. Meanwhile the ruby red, put in ovular splashes, sweeps and lines, represent hard-earned peace. "The shadow," he explains, "is for making the composition more interesting and effective."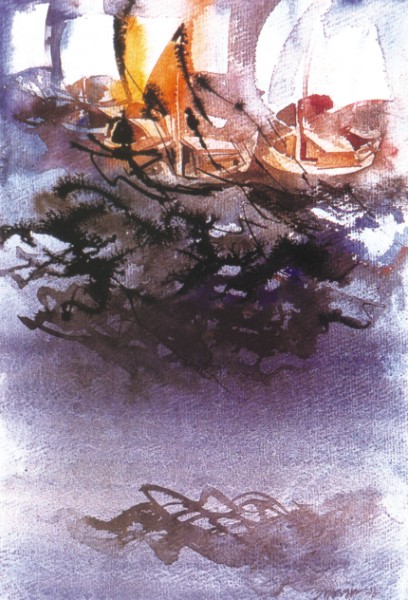 Boats and River, water colour, 110x90cm, 1998.
Earlier on, in the recent past in his "Women's role in Liberation Movement" (serigraph print) contained rounded women's visages in the forefront, with Sufia Kamal's portrait in the middle. This piece was dedicated to the poet's role in the Victory Day. Abstract forms in the backdrop, with motifs taken from past war memories, were done in variations of buoyant blue, yellow and black circular splashes.
The linear faces were in yellow-ochre and bright blue. Pristine, flying doves of peace were seen heading for the sky. This has brought in the essential element of optimism. The vermilion in the background stood for unquestionable strength. The carefully sketched motifs, tanks and arms-- carefully juxtaposed at the back-- brought in the images of warring armies from the past. The fluttering Bangladeshi flag remained a powerful focal point. Emotions and memories were thus mingled with mastery of strokes.
In the same passionate vein was "Birongona". "The subject craved for peace, although she was well aware of the fact that her position in society was a questionable one. The bird in her hand was one of her imaginations. There was little value of her pain in the past. Her future too was black in our present society. As she wished to live behind curtains and veils, there was only one eye in the portrait," Hashem Khan says.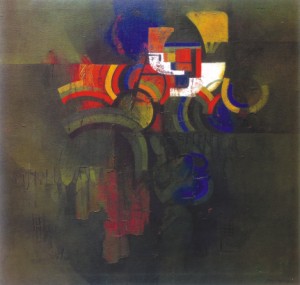 Rickshaw-9, oil on canvas, 100x80cm, 1981.
Hashem Khan, now a retired professor of the Fine Arts Department at Dhaka University is a free-lance artist, enjoying even commercial work. In his youth, he has made festoons, banners and caricatures with liberation of the country in mind. He says that even Bangabandhu's stage decorations in abstract -- during the declaration of the Six Points in Hotel Elysium, Dhaka -- posters, pamphlets, the banner headings of Bangla newspapers like "Ittefaq" in 1971, were executed by him. His students Biren Shome and Abul-Barq Alvi, since 1966 worked alongside him, in quest of liberty.
His childhood home in Chandpur was one that encouraged the flowering of nationalism. Even Communism was frowned upon by his family and friends. His village home had been attacked in 1971, his brother dying as a consequence. Hashem still wears the bullet mark of that fateful incident of the past.
Hashem Khan's latest exhibition is going to be held at the National Museum on December 18. The display contains 80 exhibits in all.
Copyright (R) thedailystar.net 2010