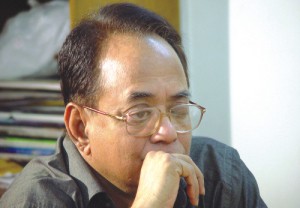 Shahadat Chowdhury Photo: zahedul i khan
It is always difficult when you want to write about a person who possesses so many qualities and can be described in so many different ways. Shahadat Chowdhury was a writer, an editor, an artist, an activist, a freedom fighter, a visionary, a kingmaker, a cultural trendsetter and on top of everything, a person who started a revolution in the media.
Shahadat Chowdhury was the Editor of weekly Bichitra and Anandadhara till 1997. After Bichitra he joined the weekly news magazine "Shaptahik 2000" and the fortnightly magazine "Anandadhara". During the Liberation War Chowdhury was a valiant freedom fighter and was the coordinator of the guerrilla war against the Pakistan occupation army in Dhaka and a major aid to Sector-2 Commander Khaled Mosharraf.
He viewed life in a very different perspective. He was a philosopher, an intellectual, a great friend, a good husband and a responsible father. He was the best in every role he played. He was "The Shachow" among his friends and to me he was my father.
My memories of my father are strong. He is my mentor, my best friend– my hero. Whatever I am today is all because of him. According to him I was the brat a father can ever have as a daughter because I always told him "Dad, you know nothing, I know everything". He never uttered a word nor had he tried to say what he was. He acted as if he really did not know anything.
When I was growing up, he never pressured or forced me to do things. He always respected my views and decisions, which was unique even in this day and age where the repression of women is evident in our daily lives. He always used to tell me, "Life is yours, you choose how you want to lead your life, all I can do is give you advice and guide you, either you buy it or do not, I will never force you to be an engineer if you want to be an artist." He said that to me a decade back and recently when I watched the movie "Three Idiots" I just felt lucky!
He was my best friend too. I could talk to him about everything. He always made sure that I do not do things behind his back or lie to him. That is why he used to openly discuss many things that usually a parent would not do with his/her children. He would talk about life in a way that always made me think about the bright side of life. He always told me, "share happiness with others and keep your sorrows to yourself."
He encouraged me a lot to read books. Once, he bought me two books, one was 'Sophie's World' and the other one was 'Roots'. Before he gave them to me he said, "Read Roots and then you will know what it is like to know your origin and never forget your roots, and Sophie's world will help you to understand what the purpose of life is."
When he left us I was just a first year student at the university. I remembered the last conversation that I had with him when he was home; he said, "Esha, I am a father and as a father I always tried to give my best, you are young and your life has just started and I am telling you this because I will not be able to see you grow up, and that makes me sad. Always remember one thing, life is like a valley and there will be ups and downs, but you will have to be strong to face things; never give up till the end. Also, never do things that will make you regret later in life. After all, life is beautiful". After that he looked at me the way he had never done before and said, "I do not want to live a life like this–sitting at home, lying in bed weak and ill; so if anything happens, do not put me on life support." I was wondering what was wrong with him, why on earth was he saying all this. He was here and I was not going to let him go.
Within a week, his health deteriorated further and he was admitted to the hospital. He was put on life support. Everybody came to console me. But I remembered his words – "Never give up till the end". I clung on to my hopes that he would recover. The last day when I went to see him at the ICU, he could not recognise me. At that very second his words hit me: "Do not put me on life support, I want my freedom". I realised now it was time to give up all hope because I had already tried till the end.
I decided that I would be strong and would tell everyone the next morning to remove the life support. After all he was a fighter and he deserved freedom. Well, I did not have to wait for long. He passed away later that night. I knew that that very moment that I had lost the most precious thing in life; I had lost my soul.
Today marks the 5th anniversary of his death. Time flies. Time heals. And I have moved on happily with life. I am a big girl, working for an international organisation and I know he is watching me and will be happy to see that his Esha has overcome all the ups and downs of life. His memories are still alive in me.