Tribute
The Friend who Stood by Us

Abdul Mannan
On Thursday morning, about 24 hours after the announcement of US Senator Edward M. Kennedy's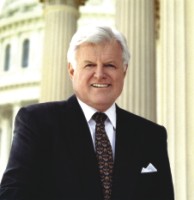 Edward M Kennedy
death I sent a personal condolence message using the e-mail address of the Kennedy family. I shared my generation's memory of Sen. Edward Kennedy's role during our War of Liberation in 1971 and how he became a household name in Bangladesh in those terrible days. In less than 24, even before the body arrived at the Our Lady of Perpetual Help Basilica in Boston for the funeral mass I received a return mail from the family thanking me for my tribute. May be it is an auto generated mail, but I was amazed to see how meticulously organised the events were planned for this great soul's last days. Edward Kennedy has already been buried in the Arlington National Cemetery in Virginia. Kennedy died of brain cancer late Tuesday night (August 25) at his home in Hyannis Port (Massachusetts) at 77. When he was elected a Democrat Massachusetts Senator in 1962 he became the country's youngest senator. He replaced his brother John F Kennedy when he resigned to become president, and was re-elected seven times. He served the US Senate for long 47 years. He was the third longest serving senator in US history. Senator Edward Kennedy's two elder brothers President John F Kennedy, and Presidential candidate Robert Kennedy are also buried in Arlington. Both of them were assassinated. The eldest of four brothers, Joseph Kennedy died of a plane explosion in 1944, while on a secret mission in Europe during the World War II. Edward Kennedy was the only one of four brothers to die a natural death. In 2006, Time magazine named him as one of America's "Ten Best Senators' saying that he had 'amassed a titanic record of legislation affecting the lives of virtually every man, women and child in the country.' He was extraordinarily skilled at forging alliances across party lines: pushing an education initiative with President George W Bush, and immigration reform with Republican John McCain, and was fiercely critical of US invasion of Iraq and the prisoner abuse scandal.
No other US senator's name will perhaps be remembered in Bangladesh more than that of Senator Edward Kennedy for the remarkable role he played in standing besides the millions of suffering people of this country in 1971 when his government under President Nixon sided with and supported Pakistan. Immediately after the crack down by the Pakistani forces on the unarmed people of this country on the night of March 25, 1971 exodus of refugees to neighbouring India began. First it started with a trickle and within weeks it swelled into thousands. The neighbouring states of India, including West Bengal were overwhelmed with millions of fleeing refugees. By June and the world attention was drawn by the international media to this catastrophic human tragedy. Aid workers, politicians, journalists and humanists visited the refugee camps to witness the misery of the wretched refugees and find out how best they could be helped and lives saved. Senator Kennedy as the Chairman of the Senate Refugee Sub-Committee on Refugee Affairs wanted to come to occupied Bangladesh, but entry was denied by General Yahiya administration of Pakistan. He did not want to displease his friends in White House and Washington. As an alternative, Senator Kennedy decided to visit the refugee camps in India. By that time monsoon had set in. The condition of the refugee camps have become unbearable. People, especially children and elderly were dying in hundreds because of cholera and diarrhoea. His well wishers told him it will be took risky for him to visit these slushy camps. He said when millions can live in this sub-human condition why can't he just make a visit. He came to Salt Lake refugees camp, nearest to Calcutta city on August 16, 1971 with a big entourage of officials, journalists and humanitarian workers. He walked around, talked to the wretched people, and learnt about the compelling conditions under which they had to leave their homes and belongings in Bangladesh. They informed him about the atrocities committed by the occupying Pakistani forces, the rape, murder, loot and torching of their villages. He learnt about the formation of our Mukti Bahini , their heroic efforts to liberate their motherland. Returning home he prepared a detailed report of his visit entitled 'Crisis in South Asia' which he presented before the Senate. He informed the Senate in irrevocable terms how wrong the Nixon administration was in not doing enough to persuade General Yahiya of Pakistan to stop his madness in East Bengal. In the US when someone from the Kennedy family speaks people listen. The already growing public opinion in favour of Bangladesh got an additional boost after this hearing. His report was carried by all the major print and electronic media around the world including our 'Swadin Bangla Betar Kendra.' Instantly he became a household name in occupied Bangladesh. People realised they were not alone in their hours of suffering and growing misery.

This 1971 file photo shows the then US Senator Edward Kennedy visiting refugee camps in Kolkata, India. Over one crore Bangladeshis took refuge in India during the Liberation War. Photo: AFP
Following the liberation of Bangladesh in 1971 quite a few dignitaries visited war-ravaged Bangladesh. First to come was Senator Edward Kennedy. He arrived in Bangladesh on February 14, 1972. He met Bangabandhu Sk.Mujib and visited Dhaka University campus the following day where he was accorded a rousing reception by DUCSU in front of the Art's Faculty Building. Thousands thronged the campus to see and hear this iconic Senator who played such a historic role during our hour of crisis. Senator Kennedy was overwhelmed by the reception he received from the students and faculty members of Dhaka University. He spoke of the great role played by students in general and those of Dhaka University in particular in liberating their motherland, the sacrifices they and the people of this country have made. He said it is now time for rebuilding this new nation and look forward to a better future. Immediately after the crackdown on the fateful night of March 25, 1971 one of the stupid thing Pakistani army did was to chop off the big banyan tree (bot gaach) in front of the Arts Faculty building. They had a strange idea that this tree was the driving force behind the movement of the Bengalis. Senator Kennedy planted a new sapling of a banyan tree on the same site. The tree has grown in size and shape over the years. Senator Edward Kennedy's visit was followed by the Indian Prime Minister Indira Gandhi and Tariq Ali, the then internationally renowned Pakistani born student activist, who supported the cause of Bangladesh.
Edward Kennedy was a sort of workaholic. He loved his work and was a perfect mentor and coach for would be change leaders and young Democrats willing to learn. 'He was demanding, very demanding, but he was fun to be around,' recalled one of his staff Cahill. Eager Democrats dreamed of joining Kennedy's team. Many of his former staff later joined the White House staff team. Kennedy loved sailing. It was his passion. On better days, if there was a bit of a breeze, he went sailing said his wife Vicki Kennedy one of those person who was on the bedside during the last hours.
He knew his days were numbered. He spend the last fifteen months putting together his memoir, 'True Compass,' which will be published on September 14. Edward Kennedy was to receive the Congressional Medal of Freedom on August 12 from President Obama, in a simple ceremony in the White House where our own Nobel Laureate Professor Muhammad Yunus was honoured along with fifteen others. Instead, his daughter Kara, accepted the honour in his place. Kara announced that her father had used up his strength the night before, to put on a crisp white shirt and a tie, comb his grey hair and travel to the family's private gathering in Hyannis Port, Mass., for his sister Eunice Kennedy Shriver who had just expired. That was one of the last thing Senator Edward Kennedy did before he breathed his last late Tuesday.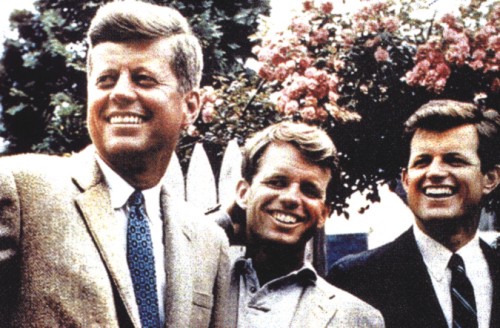 John, Robert and Edward Kennedy in 1960.
Senate Majority leader Harry Reid said the Kennedy family and the senate had "together lost our patriarch." "The liberal lion, mighty roar may now fall silent, but his dream shall never die," he said. May senator Edward M Kennedy's soul rest in peace. He was a great friend of Bangladesh.
Professor Abdul Mannan, teaches at the University of Liberal Arts Bangladesh. He is a former VC, Chittagong University. Dhaka.
Copyright (R) thedailystar.net 2009