Interview
Teaching the Philosophy behind the Art
Fayza Haq
Giving up a promising career as a photographer German born Roman Bezjak from Germany, decided to become a teacher of the visual art which, he thought would be a greater contribution to society. He has been teaching photography at Fachhochshule Bielefeld ( Germany ) for ten years now. Recently, Professor Bezjak came to Bangladesh to teach a photography course to both professional and amateur photographers. Here in Dhaka, over a period of three months, Prof Bezjak conducted two workshops -- comprising five days each. The subject of the first workshop was "Our stories: Middleclass Bangladesh". The students worked on their project, and they had contact with Prof Bezjak in Germany via e-mail. The more recent one, which ended on August 27, was on the architectural landscape of Dhaka. An exhibition is on at the Goethe Institut, comprising the works of some of the most promising students of the first workshop. The display is on view till September 9. The exhibition is in conjunction with the international photography festival "Chobi Mela -V".
Originating from East Europe, Professor Bezjak explained the purpose of his visit, and the nature of the photography exhibit.
Can you suggest ways in which these photographers can improve their work and be more successful in future?
They have to have the experience of working on different stories. Learning photography is like learning a musical instrument. You have to have continued practice and training. This is not done in a year or so. It takes you at least five years to be a good photographer; and then too you are still learning. You have to bring some talent with you. Also a lot of work. Again, a lot of thinking about your subject and yourself goes into the making of a good photographer. At first, you have to know who you are. Then you know what are your interests, and the place from which you can best photograph your subjects, to which you have a definite relation, and in which you have a considerable experience.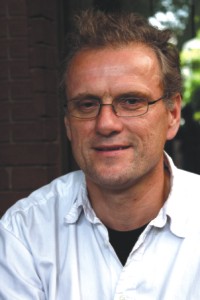 Roman Bezjak
What is essential for a photographer: The subject, the angle, the timing or perseverance?
All of these factors are important. One chooses a subject that one can handle; one figures out the unusual angle; one waits for the mood of the subject and one aims for something new and fresh. One's entrees in a display are shots taken from a collection of innumerable ones. One should have a deep-seated interest in photography. There should not be other alternatives to distract one. "The candle has to burn on both ends" -- as they say in Germany. Commitment is essential. One has to believe in oneself. Of course, talent is vital.
What is your evaluation of some of our best photographers in Bangladesh?
My best understanding is that of the participants of the workshop -- like Zahid I Khan , Chandan, and Ishtiaq. Coming to the new generation, Zahid, in turn, is truly professional. He works with his heart. He likes to photograph things he loves. He is truly a fine fashion photographer and a conserver of Bangladesh's heritage and beauty, like the Lalbagh Fort. As for Chandan, he's a "humanistic" photographer, who aims at portraying the charm and dignity of the simple things in life --- such as the footpath dwellers of the Kamalapur Railway station, displayed in his book.
Do you go in for colour or the drama of black-and-white?
I always work in colour. I started in black-and-white ; I found the world colourful and I wanted to capture the romance of colours. I just love colours. I try some of the compositions I like, because of the particular hues. Let me tell you something of the project I'm doing. For the last four years I'm photographing a socialistic, modernism in architecture. The modernism is a style of post World War 11 and after Stalin's death in 1953. When Kruschev came to power, architectural styles changed in Soviet Union.
"Modernism" took over. Prefabricated units and industrial productions of buildings became the "all over" model for Soviet Union and East Europe.
I'm photographing this heritage from the 60s and 70s in the former Soviet and east and middle European countries. (This includes Poland, Slovakia, the Czech republic, Slavia, Romania, Estonia etc.) I've worked in Russia, Ukrain, Belarus, etc, focusing on St Petersburg and Moscow.
I'm photographing old, huge, ugly buildings which nobody likes to see -- because it's unlike the heritage from the former communistic times. It's interesting to see what happens to these buildings. Some of them were demolished. Others are well restored.
My work is to find out a Utopian potential in the 1960s and 1970s, as they reflected the model of the societies of that time. Thus I recorded Communism's search for a new way of life where everybody should be equal-- which is reflected in the architecture. The aesthetics aim at simplicity. The only unifying factor of places, like Yugoslavia, is architecture.
What inspired and guided you?
No one in my family is a photographer. After having travelled through Europe and Asia as a back-packer, I graduated in photography. I then worked for ten years for a magazine <>The Frankfurter Allegemeine Zeitung<>, travelling to East Europe and South America. I did stories about the everyday life of the people there, and cultural phenomena. I also worked for other magazines like <>Geo, Stern<> and <>Der Spiegel<>. I then went into teaching in Bielefeld. I'm now a professor there for 10 years, teaching Documentary Photography.
In which country did you find your most inspiring themes?
I'm interested in the development in East European countries after the liberation, because my family originates from this place .
What is your opinion of press, documentary and fashion photography?
Documentary sticks to the reality. Photographers try to report on circumstances which they are facing. They are asked not to manipulate their images. Fashion is the opposite of this. Here photographers are trying to create an image that presents more of fiction than of the reality. Press photography involves those working on long-term projects, staying with the job for three or four weeks. Others do everyday spot news, sometimes photography for one hour, and no more on one item. For the second group, it is much more difficult to catch the depth of the subject in the short time. The others doing "essays", are more privileged as they have more time to spend on one item.
Does dedication to a profession like photography entail sacrifice of everything else for instance, romance, having a family?
You have to let go of everybody and let them do what they want in life. But photography involves emotion to some extent. You have to concentrate on your subject when you are photographing. If you share your love and energy with some other interest, you have less of the power, love and ability to give your work. You have to concentrate on your project and not your private life. At the same time, love can inspire you to get more out of you. You have to create your personality, learn about life. You have to be able to love. If you aren't able to love, you come to a certain point in photography-- but not beyond.
Copyright (R) thedailystar.net 2009