Food for Thought
Travel Tales
Culture, Cuisine and Curious Characters

Farah Ghuznavi
This week's tale is one of a city across our western border, in Opar Bangla as opposed to Epar Bangla. Not a "proper" travelogue, mind you, just an impressionistic piece (mostly) about my misadventures. A few months ago, I returned from a five-day trip to Kolkata, which had more ups and downs than the average roller coaster ride. We should perhaps have expected some degree of turbulence given the recent events in Mumbai, and certainly airport and hotel security during the trip were significantly tighter than before; but most of the action took place on the domestic front.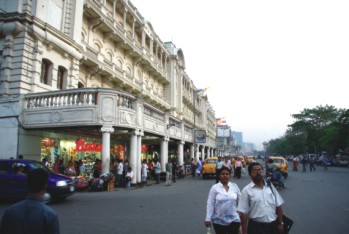 Photo: Zahedul I Khan
It all started with a mix-up at the Bengal Club, where we were supposed to be staying. This resulted in a smaller than expected room, that three of us were supposed to be sharing - and fond as we are of each other, neither my parents nor I were amused by the prospect of sharing quite such close quarters for nearly a week! In any case, the Bengal Club (a relic of the British period) is notorious, at least in my family, for its myriad eccentricities. To this well-established reputation, we could now add a complex "security system" that involved up to six people with no equipment or visible skills, determined to examine each car that approached this high-value terrorist target in order to thwart any potential attacks. I am willing to believe that the sheer level of frustration occasioned by any attempt to enter the club premises in a vehicle would have deterred all but the most determined visitors, never mind the terrorists!
In the past, experiences at the club have kept us entertained, including ancient archaeological finds of "lost" Marie biscuits under the double bed (in a room that was supposedly cleaned in anticipation of our arrival!) - and another peculiar encounter when I was informed that room service could provide chicken sandwiches at 9 a.m., but could not provide accompanying condiments such as green chillies or chilli sauce before 11.30 a.m. because it was "against the rules". To make matters even more complicated, they were inexplicably willing to provide tomato sauce with the sandwiches though they remained implacably firm on their stance regarding chilli sauce! Perhaps requests for chillies were an unwelcome reminder that the club had been taken over (several decades ago!) by locals??
After some stress over the room crisis during this most recent trip (we were initially promised a larger room, allowed to move into it, and then like a cruel joke in some reality show, informed that it was all a big mistake and we had to go back to our smaller room instead), we decided to make the best of it. In order to recover from the heated exchanges that had taken place, we decided to treat ourselves to a coffee break in the centrally air-conditioned comfort of the Taj Bengal hotel.
Like the others in the Taj chain, this hotel is like a world unto itself, featuring an open-plan design so that you can stand in the lobby and look straight upwards to see the ceiling soaring several floors above. A series of open corridors connect the guestrooms on each floor by a system of overhead bridges, and guests can come out of their rooms and look down in to the lobby area from whichever floor they are standing in. In addition to the sudden comfort of a temperature-regulated environment, as you step into the hotel you are surrounded by marble floors, a profusion of potted plants and smiling, smartly uniformed staff; in other words, it's about as different in service terms from the Bengal Club as you can get! The fact is while I do actually know that at the Taj staff members are <>paid<> to smile and make you feel special, the illusion of friendliness works because they do it so convincingly…
We met up in the café with my uncle, and I enjoyed the blissful novelty of being in a restaurant environment where, for a change, I actually recognised much of the music (from Eagles to Elton John to Shakira)! Within a few minutes, I was relaxing and enjoying a mushroom cappuccino the name refers to the size of the (small) helping rather than any disgusting soup/coffee fusion offering dreamt up in the brave new world of restaurant cuisine. Despite the luxurious surroundings, it was hard not to think of recent events, given how badly the hotel chain was affected by the multiple attacks that caused such carnage in Mumbai.
In comparison to what I had expected given the terrorist attack on the Mumbai Taj, the security arrangements at the Kolkata branch were less intensive than expected. Basically, while cars were halted at the main gates and carefully scrutinised (opening the bumper, checking the underside and taking a look at the engine), there was very little scrutiny of guests going into the hotel itself. Apart from a cursory bag search and scanning the body with a metal detector, I didn't really see any sign of the luggage being looked at very carefully either. Perhaps it was all just classic Bangali dhilami, which remains essentially the same whichever side of the border you are on!
And on the subject of security, there was one slightly weird moment. We were at the coffee shop when I suddenly spotted three men with rifles. Trying to look calm, I asked my family members what they thought the guys were doing there. My sense of unease was not helped by my uncle's interjection that the guns that they carried were "heavy-duty, Kalashnikovs". Luckily, we were quickly put out of our misery by the unexpected, if bizarre, sight of the three men (still hanging on to their rifles) helping themselves to potato puris and vegetable curry from the lavish breakfast buffet! I'm still wondering who they actually were…
I was less fortunate in terms of social encounters on this trip. Of the two friends I had planned to meet, one's phone number had become invalid (is she trying to tell me something…?), and the other one missed our appointment due to a very good reason: he was held up in North Kolkata tracking down the house where his father had lived eighty years ago. It's now a vest (genji) factory! So instead, I ended up meeting lots of family friends - some of whom were absolutely delightful, and others I could quite happily have completed my life never having met. If I have my way, on any future travels I am going to organise my social life more effectively, in order to avoid meeting people who can, with a straight face, hold forth pretty much uninterruptedly for up to three hours on subjects ranging from a to b (the general thrust of their monologue consisting of how fabulously well travelled, well-read and cultured they themselves are in comparison to rest of the world's population)!

Park Street, Kolkata. Photo: Zahedul I Khan
Among the other pleasures Kolkata has to offer are many that are both simple and sublime, mainly focusing on food and shopping, with a bit of culture thrown in. I have to confess to not being a great shopper myself, so my indulgences in this regard were limited to the profusion of excellent bookshops; in five days I managed to hit seven bookshops, several of them twice. My priorities were reflected in the plunder I carried home in my suitcases, around twenty books and no saris much to the disappointment of my fellow countrymen, the customs officers at Zia International!
As for culinary adventures, here too I am relatively low maintenance. My explorations basically consisted of trying out some of the many shapes and flavours of Indian packaged snacks that came in a dazzling array of varieties (round/square/ triangle/mad-angle, plain/crinkle-cut/ring-shaped, chilli/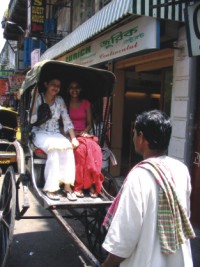 A rickshaw ride in Kolkata. Photo: Zahedul I Khan
achar/lime/masala flavour etc etc). And yes, this did keep me occupied for quite some time as I said, I am low maintenance…
But for authenticity, nothing beats the phuchka-wallahs of Victoria Memorial. For a few rupees, you can gorge yourself on their delightful wares. While customers hold on to their "plates", consisting of a few large leaves deftly sewn together, the phuchka-wallah will at the speed of light hand each waiting punter a gigantic crispy shell with the most delicious potato and chickpea mixture, to be dipped into spicy tamarind water and devoured immediately, before the whole thing falls apart. The phuchka-wallah is willing to keep going as long as you are, but invariably after downing five or six of these monsters, you start to feel quite full, so dinner on such evenings is invariably out of the question.
Continuing on the subject of food, during this trip I was treated to the most amazing fifteen item home-cooked vegetarian banquet by a Gujarati friend, Darshan, which clearly proved to me that with access to that kind of variety, most of us could quite easily be vegetarians. And I say this as someone who really loves her chicken! Less straightforward was yet another social encounter that followed.
Darshan introduced me to a colleague of hers, who left me somewhat puzzled at a query about whether I was "a Bangali or a Muslim". My mother, who spent part of her childhood in Kolkata a, subsequently informed me that this was a common misconception west of the border. After I had pointed out that I was both, I was further confounded by the follow-up query. The lady then asked me whether I wore sindoor. Since (not being a married Hindu woman) I was not wearing sindoor at the time, the query seemed a little peculiar, to say the least…But then, that might have been what she was thinking about me since I clearly didn't fit animal/vegetable/ mineral categories too neatly either, as evidenced by her many enquiries!
Copyright (R) thedailystar.net 2009