Special Feature
Axis of Evil

Growing diplomatic and military ties between Myanmar and North Korea pose a security threat for Bangladesh and other Southeast Asian nations
Ahmede Hussain
Gen Shwe Mann, right, and a North Korean officer exchange a gift at an air force unit.
Shwe Mann (left) and Gen Kim Gyok-sik exchange copies of a memorandum of understanding at the Defence Ministry.
It is indeed a marriage of convenience. Myanmar (Burma), which has been under a vile military dictatorship, has lately reached out to North Korea, which is ruled by the hegemonic rule Kim Jong-il. The relationship between these two countries, however, has never been smooth: even though Myanmar got independence in 1947, and North Korea in 1948, Rangoon and Pyongyang exchanged emissaries as late as in 1974. The friendship lasted no more than nine years; Rangoon severed all diplomatic ties with Pyongyang when some North Korean operatives carried out an attack in Myanmar on South Korean President Chun Doo Hwan.
Both the countries set up embassies in each others' capitals two years ago and since then military ties between Myanmar and North Korea has grown at an alarming rate, so much so that US Secretary of State Hillary Clinton has called it "destabilising for the region". She has said that, "It would pose a direct threat to Burma's neighbours." The irony however, does not escape us: even though Myanmar is an impoverished nation of 50,020,000, whose economy grows at 2.9 per cent a year, one of the lowest in the region, 40 percent of its budget is spent on defence. Military rulers, as the history of the world suggests, are always plagued with paranoia and Myanmar's Generals are no exception. Faced with the prospect of being overthrown by its own people, the Generals have shifted the capital to Naypyidaw. A string of leaked photos and documents received by The Star suggests that the Myanmarese Generals are under this impression that a 'foreign force' is going to invade the country through the Irrawaddy delta, which borders Bangladesh. A photo of a recent briefing of the Myanmarese Army on the National Air Defence Command System show that senior commanders think that foreign ships and naval vessels will launch an attack on the country's army through the region.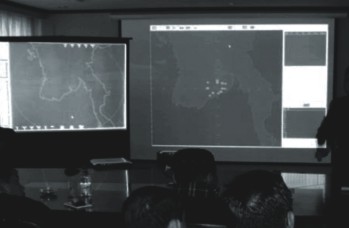 A briefing on the National Air Defense Command System to Burmese (background projector shows lower part of Burma and part of the Irrawaddy delta where the regime believes foreign forces and naval ships would enter Burma.
Both North Korea and Myanmar have certain things in common though, and it is indeed surprising that it has taken so long for both the countries, shunned by the world for their disrespect for human rights and rule of law, to have made friends with each other. Ne Win, who usurped power in Myanmar in 1962 and died in 1988, was an ardent advocate of what he called the 'Burmese way of socialism'. It eerily resembles Kim Il-sung (who died in 1994 and till date is called the 'Eternal President of the Republic') who, when he was alive, called his version of dictatorship as the Juche way to socialism.
Even though Myanmar and North Korea have re-established ties after 25 years, there are signs that the Myanmar junta is all praise for its Korean counterpart's infamous 'Songun (military first) policy'. In November last year, North Korean Deputy Foreign Minister Kim Young Il paid a visit to Myanmar to sign a free visa agreement. The year witnessed five visits by Myanmarese government officials to the hermit kingdom, which since Kim Il-sung's death in 1994, is ruled by his son Kim Jong Il. According to a report run by the Korean Central Agency, Yangon (Rangoon) Mayor Brigadier General Aung Thein Linn, in a visit to North Korea last year, heartily praised the Songun policy. The enthusiasm in Korean militaristic chauvinism shows that the Myanmarese junta is planning to replicate the North Korean model in its own country.
The most significant of all the visits took place in November last year when Than Shwe, the head of state of Myanmar and Commander-in-Chief of the Tatmadaw (Myanmarese Army) went to Pyongyang last November. On his shopping list were: the technology for building tunnels, aircraft, naval ships and missiles ranged 500-1,000 kilometres. According to the Irrawaddy, a newsmagazine run by Myanmarese in exile, the junta is planning to build Scud-D, E and F missiles. Recently the Japanese government has intercepted the supply of magnetic measuring device that is used to build long-range ballistic missile system; the shipment was made to Myanmar. A raid made by the country's police suggests that North Korea has already transferred the Taep'o-dong-2 equipment to Myanmar. If the news is true, Bangladesh's national defence system is in danger. Weighed 79,189 kg, Taep'o-dong-2 is the longest of North Korean missiles--it is thought to have a range of 4,000 kilometres, which means the entire Bangladesh will be under its range. Worst still, it can carry nuclear warheads.
The Burmese delegation visits a factory producing radar equipment

A Myanmar naval ship
In fact, the Myanmarese junta has already bought short and medium range ballistic missiles (SRMBs) from China and North Korea, SRMB air defence system from Russia, low altitude surface-to-surface missiles from Ukraine and Bulgaria. Recent intelligence reports suggest that the country is also building an intricate network of tunnels across the country to supply ammos and troops in a possible war with the help of the North Koreans. The project, bombastically titled People's Militia Strategic Operation, has its headquarters in the capital and is thought to be lined with bombproof materials. One of these tunnels, housed under the Pyinmana road, can accommodate 1000 soldiers for several months.
Bangladesh needs to take Myanmar's recent military ambition seriously. The country's relationship with its eastern neighbour remains unstable, and the latest developments in Naypyidaw are particularly alarming on more than one count. Myanmar under the leadership of the ruling Generals is a prison for small ethnic minorities. In 1988, the regime forcibly evicted 300,000 of the country's minority Rohingya Muslims who fled to Bangladesh, creating a major humanitarian disaster. In November last year, a fleet of Myanmarese naval ships illegally entered into Bangladesh territory in the Bay of Bengal, an area which is rich in oil, gas and other mineral resources. Bangladesh Navy has repulsed the intrusion, Myanmar, now armed with new military hardware, can turn up again this winter to lay claim to the disputed territory, says an intelligent report.
Tatmadaw helocopter supplied by Russia

North Korean Missiles
All the telltale signs are there: last month the Myanmar Army arrived in the bordering Mongdu and Alitanjo and forcibly acquired around 1,000 acres of arable land from the ethnic Rohingyas to distribute it among the Buddhist citizens of Mongdu. The Army has also told the Rohingyas of the country's Sectors 6 and 7 to go to the hills or to take refuge in Bangladesh.
At the same time Myanmar is building its military presence across the border. It has deployed a new string of missiles; in the Arakan state alone the Army's strength stands at 500,000. To make it even worse, Bangladesh's border with Myanmar has remained ill guarded, especially after the Pilkhana carnage. Kaptai power station, which, should the border skirmishes turn into a large-scale conflict, will become a natural target, is not properly shielded from a possible enemy fire. Compared to Myanmar's newly bought military hardware, Bangladesh is lagging far behind.

A North Korean naval unit at Nampo City
As a nation that loves democracy and freedom, Bangladesh must take the issue of Myanmar's appalling human rights record to the international level. The country also needs to hold joint patrol exercises with countries like the US, UK and Australia. The free world must also look at Myanmar, where a despotic insane regime has held Aung San Suu Kyi, the elected premier of the country in prison for the last 14 years. In fact, the Myanmarese junta's growing fondness of the North Korean regime spells disaster for the region, especially for neighbours like Bangladesh and Thailand. Bangladesh's ultimate aim should be to get rid of the thorn that has been refusing to go away. As it cannot do away with it alone, it can seek the help of those who wish to do the same. Myanmar under the Generals is risky as it is; the junta's North Korean connection calls for immediate action.
Copyright (R) thedailystar.net 2009