Tribute
And the Music Stopped
A tribute to Luciano Pavarotti

Mijarul Quayes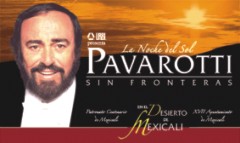 Luciano Pavarotti, tenor par excellence, died on September 6, 2007. He was perhaps the most beloved, one of the best recognised vocal performers of western music. His televised concert in London's Hyde Park drew a record attendance of 150,000. In June 1993, more than 500,000 listeners gathered for his performance on the Great Lawn of New York's Central Park, while millions more around the world watched on television. The following September, in the shadow of the Eiffel Tower in Paris, he sang for an estimated crowd of 300,000.
My first serious introduction to Pavarotti's music was when I bought the 1991 Sony music entertainment CD featuring favourite arias by Carrereas, Domingo and Pavarotti. This was after his performance of Nessun Dorma from Puccini's Turandot at the opening ceremony of the 1990 football World Cup in Italy. This launched Pavarotti into popular stardom, and came ahead of the first of the Three Tenors concerts on the eve of the final match of the tournament. Pavarotti and his fellow star tenors Plácido Domingo and José Carreras brought hits previously confined to the opera world to a much wider audience.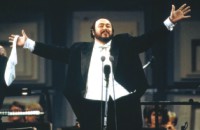 Luciano Pavarotti made words and music adhere to each other in
complete harmony
I must confess that what endeared Pavarotti to me had perhaps to do with more than just his passion for high music. Pavarotti, like myself, was also endowed with an impressive girth, and on stage, he carried a signature white handkerchief wiping his brows every so often. His later years saw a significant decline in his ability to perform on the stage, due to weight gain and lack of mobility. There are those who would speak of other tenors who could also act, whereas Pavarotti only sang. But whoever has witnessed a Pavarotti performance will know that he too, indeed "acted", not by demonstrating or by thespian characterisation of the part, but by defining its inward emotional essence in how he uttered the music and text.
Connoisseurs still speak of his legendary appearance in June 1966 at Covent Garden in Donizetti's La Fille du Régiment, wherein he sang the high Cs in full voice, without any adjustment towards falsetto, the sound when the soft palette is pressed down. Donizetti had expected these to be sung in head voice, which would have meant not going into the passagio (pitch ranges) and sustaining that sort of modified shout, which is the way tenors make their top notes exciting. But Pavarotti had a relaxed natural vibrato (musical effect produced by a regular pulsating change of pitch) right through - his singing was all of a piece. Pavarotti's consistently elegant, expressively refulgent way of singing through the passagio is what many credit to be the secret of the remarkable longevity of his voice as an instrument.
By late 1970s, Pavarotti had become known worldwide, famed for the brilliance and beauty of his tone, especially into the upper register. His "high C" became one of his trademarks. He will be remembered for his extraordinary voice, known for its range, power and beauty like the legendary tenor Enrico Caruso before him. Pavarotti achieved both musical respect and mass impact of a kind that had not been equalled since the great Enrico. The unique timbre and power of his voice imparted an awe-inspiring presence, and yet there was the hint of playful mischief that appealed to all ages. He ended up completely dominating the world of western classical music. It is not unusual to hear of record shops in small towns label their classical music section as "Pavarotti etc".
Pavarotti's style, it has been said, was impeccable, the ease and beauty with which the text was realised were irresistible, and the perfection of support and focus at the top were model. As the Italian soprano, Nuccia Focile would recall, "If you looked into his eyes when he sang, you could almost touch the concentration - he was always preparing the next phrase in advance."
It has been asked if any tenor has ever used the text with more immaculate musical expressiveness. Verdi, Bellini, Donizetti and Puccini showed Pavarotti off at his eloquent and robust best. He sang a little Richard Strauss - the Italian tenor in Der Rosenkavalier was perfect typecasting; he was sublime as both son and father in Mozart's Idomeneo, at different stages of his career. He learned a few extra parts such as Verdi's Don Carlo, Giordano's Andrea Chenier etc. His repertoire for the most part, however, was a manageable range of roles that he had sung throughout his career.
He stuck to the tradition represented by earlier giants such as Caruso, Martinelli, Bjoerling, Bergonzi and Corelli - who, in turn, had stuck mainly to Italian repertoire. He could apply his extraordinary ear, and adjust his detailed approach so that the result was newly minted and fresh as a musical experience. He was an inspired perfectionist when it came to the fundamentals - the ideal moulding of poetry to a heavenly line of music. His projection was amazing and his enunciation of words always perfect. He never distorted the true colour and purity of the vowels that he was singing. As one critic observed, his words were always limpidly clear, expressively registered and dramatic.
Pavarotti could make the music and words adhere to each other completely naturally. This wonderful quality of acting out the meaning through the words was fundamental to his genius as a performer. The natural beauty of the sound he commanded was, in the end, more significant than the fact that he could sing top notes far more effortlessly than his hard-working and supremely competent contemporaries.
The only time I saw Pavarotti's matchless live performance was at the Royal Opera in Naples, Italy - an experience indeed of a lifetime. It was October 1995 and I was in Naples to attend a multilateral conference on trans-border crime. What a finale the host city had arranged for the delegates at the end of a drab and laboured conference. I remember him singing what many call his trade mark aria Puccinni's Nessun Dorma. His voice of pure gold had by the mid-1990s matured in strength and depth without losing its innate ravishing beauty, precision and expressiveness. And he sang the confident notes of the anonymous prince:
Nessun dorma!... Tu pure, o Principessa,
Nella tua fredda stanza
Guardi le stelle
Che tremano d'amore e di speranza.
The English rendering of the text goes like this:
"No one shall sleep! ... No one shall sleep!
Even you, O Princess, in your cold room, watch the stars
that tremble with love and with hope.
But my secret is hidden within me, my name no one shall know ...
No! ... No!... On your mouth I will tell it when the light shines.
And my kiss will dissolve the silence that makes you mine! ...
[The Chorus of women: No one will know his name and we must, alas, die.]
Vanish, O night! Set, stars! Set, stars!
At dawn, I will win!
I will win! I will win!"
Incidentally, it was again this role of the unknown prince of Nessun Dorma that he sang in his last public performance - at the opening ceremonies of the 2006 Winter Olympic Games of Turin, Italy, with the crowd performing as the choral of women
Pavarotti also enjoyed rendering the rather playful La donna è mobile (Woman is fickle) by Verdi, a beautiful canzone (as they call a song in operatic terms), which is a showcase of sorts for tenors. On that October night in Naples, Pavarotti enthralled the audience with the lyrics and melody of this canzone, embellished by his distinctive delivery, his gait on stage, his white handkerchief, and a winning smile. As you listen to his renderings, you realise that the silences are as expressive as the melodies. You can sense the nascence, his voice swell up from deep within like the gathering monsoon clouds and then shower you in a spectacle of musical brilliance. That is what it is like sitting through a Pavarotti performance.
When Audrey Hepburn died, the world became a less beautiful place. Pavarotti died, and deep in my heart, as of millions across the world, the music stopped….
Copyright (R) thedailystar.net 2007