Perceptions
Tales of homecoming
Syed Badrul Ahsan


Bhutto and Sharif, this time facing a not-so-pleasant home coming.
Nawaz Sharif almost made it back home some days ago. He thought, quite rightly of course, that he would make a splash on arrival in Islamabad and enter the city in a blaze of glory. What he had not banked on, though, was the crudity that his enemies, in this case the military regime in Pakistan, could put on display. It simply bundled him out of the country and back to Saudi Arabia. The homecoming was, as we now know, short-lived. But we know too that there might well be a time when Sharif will indeed come back home to Pakistan and get back into the centre of things.
When you think back on all the episodes of homecoming in modern times, you cannot but be amazed at how big an impact they have had on history. Ayatollah Ruhollah Khomeini was thrown out of Iran by an increasingly repressive Reza Shah Pahlavi in 1963. He then lived in Baghdad for long before moving to Paris, from where he began to assert his authority on the growing discontent against the monarchy back home. What might have been a secular revolution in Iran soon went into the hands of the mullahs, with the result that Khomeini returned to Tehran in 1979 in triumph and simply took charge. The Shah, by then, was busy looking for shelter in the world outside Iran. Here in Bangladesh, no homecoming has been greater in intensity and poignance than the arrival back home of Bangabandhu Sheikh Mujibur Rahman in January 1972. It was an epic journey that began in the pre-dawn darkness of a cold winter morning in Rawalpindi, lengthened on to London and continued onward to Delhi before coming to an end on a gleaming afternoon of fervour in Dhaka. In 1974, days after the regime of the colonels collapsed in Greece over a coup d'etat in Cyprus, it was former prime minister Konstantine Karamanlis' turn to come back home from exile. He would lead the country back to democracy and then serve Greece as its president. The exiled monarch, King Constantine, was forced to remain content with residence abroad, the monarchy having been abolished by law.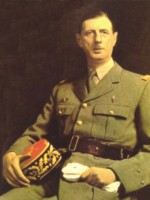 General Charles de Gaulle
Sheikh Hasina and Benazir Bhutto both spent quite a good number of years in exile (the latter is in her second phase of it) before coming back home to challenge military regimes into taking a different course to politics. Hasina returned from Delhi in 1981, six years after a violent coup wiped out nearly her entire family. Benazir Bhutto, interned in Pakistan for some time after her father's execution in 1979, went abroad and then returned in 1986 to a tumultuous welcome. In the period after 2001, when the international community helped install Hamid Karzai as Afghanistan's president, former king Zahir Shah came back to Kabul as a symbol of national unity. There is little sign, though, that Zahir Shah's presence significantly helped the country to turn its back on its Mujahideen-Taliban past. Perhaps one of the most memorable of homecomings was General Charles de Gaulle's in 1944, when he arrived back in Paris following the liberation of the city by Allied forces. De Gaulle had organised a Free French government in London that showed up the hollowness of the Vichy government set up under Marshal Petain through collaboration with the occupying Nazis. In the years after 1944 and until 1969, De Gaulle would dominate modern French politics as no other man would.
Aung San Suu Kyi was not exactly in exile in Britain, where she was busy raising a family with her English husband, before coming back home in 1988 to tend to her ailing mother. It was circumstances that pulled her into the centre of what then appeared to be a mass revolt against an entrenched military coterie. In the larger perspective of history, though, Suu Kyi's homecoming remains a pivotal point in the political history of Burma. Held incommunicado at her home in Rangoon, she has for nineteen years been the nemesis the country's ruling junta has always feared. Another individual who was once feared was Benigno Aquino of the Philippines. Detained by the martial law regime of Ferdinand Marcos in 1972, Aquino was permitted to go abroad after some years. The kleptocratic Marcos thought he would never return to rile his regime. But in August 1983, Aquino boarded an aircraft in the United States and flew to Manila, his goal being to provide leadership to an anti-Marcos movement. He was murdered on arrival at the airport tarmac, apparently on orders from the government. Three years later, his wife Corazon led the agitation that would send Marcos and his family running for their lives. Marcos would die, like the Shah, lonely and sad, in foreign land.
If there are the many tales of homecoming, there are quite a few stories of individuals who have not been able to go back to their countries once they were forced out of them. The Moroccan dissident Mehdi Ben Barka fled to Paris, hoping to embarrass a repressive King Hassan through his presence in such a significant global spot. In the event, he was murdered in the French capital by Hassan's agents in 1965. His body was never found. The Chileans Carlos Prats and Orlando Letelier, inveterate opponents of the Pinochet regime, were murdered in exile by agents of the dictatorship. The story of Leon Trotsky is known. And so is that of Shahpour Bakhtiar. Agents of the ayatollahs murdered him in Paris. Abolhassan Bani-Sadr has been slightly more fortunate. He lives on, quietly and unobtrusively, in France.
Copyright (R) thedailystar.net 2007