Sci-Tech

HP Elite m9000 Desktop Is an Incredible Entertainment Hulk


HP's new Elite m9000 Series Desktop PC is as hardcore as a non-gaming desktop PC can get these days. It sports an Intel Core 2 Quad Processor Q6600 and a DX10-happy NVidia GeForce 8400 GS card. You can order it with a dual-format blue-laser combo drive that will play back both Blu-ray and HD DVD discs. It has "unlimited" storage expandibility, starting with double-HDD bays for secure mirrored disc arrays, and it's the first HP computer to have the all new Easy Back-Up button, which we assume will come in handy once you get your hands on HP's Windows Home Server.
---
Smile Measuring Software Helps You Smile To Full Capacity
Don't you hate accidentally smiling at 17% capacity and having no one tell you? Omron has released what they're calling "Smile Measurement Software," which tells you what your smile factor is on a scale of 0 to 100%. The software uses 3D face mapping technology to, "ensure accurate smile detection and measurement even when the subject is not looking into the camera"which is great for when you're really trying to get 83% joy out of someone. The software can be used on digital cameras, mobile phones and things of that nature. It'd be a useful little gadget to put in a screening room for a comedy, or measure how happy your friends are in your company. Either way, I eagerly await to see what creepy uses are thought of for this technology.
---
Wall Mounted Aquarium is the Next Best Thing to a TV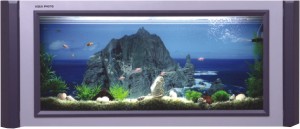 Aqua Photo, a Korean based company, did the most logical thing to an aquarium, they mounted it on the wall and made it look like a TV. With specs that sound more like a TV rather than a fish tank, this aquarium has a 1460 x 640 cm measurement, 100 watt back light, and a 35 fish capacity. At $2132, the Aqua Photo Wall Mounted Aquarium even has the huge price of an expensive TV.
---
Triops Camera Takes Panoramic Shots, Reacts to Sound and Motion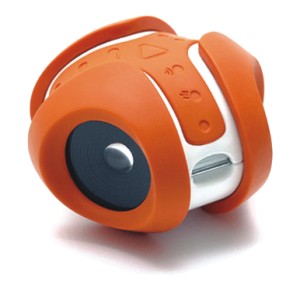 This Triops Camera may not be the best device ever invented for family portraits, but with its three lenses and sound-activated trigger, it might be able to snag some of the weirdest-looking photos you've ever seen. Made specifically for shooting panoramas and odd shot sequences, apparently you can slam the sucker into the wall and it will release its shutter. Plus, its three lenses are situated in such a way that one click immediately gets you enough shots to put together a 360° photo.



---
Stainless Steel Wallet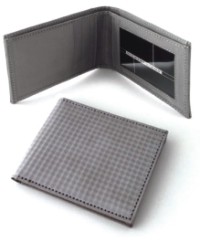 Leather. Duct Tape. Bacon-Print Pleather. You can make a wallet out of anything these days. Including stainless steel. If it looks like an easy way to charge $80 for a standard bifold, you might well be right. And if you're hoping to get a hard-cased Verhoevenesque robo-wallet, you'd be wrong. But should you want to have a "silky metallic surface" woven from thin threads of that fine man-made product, you already know what to do: get out your wallet. Bonus: the steel mesh apparently makes it harder for shops to keep track of any RFID-chipped cards inside it.




---
Inflatable Killer Robot

The Mega Mech Airmagination inflatable robot isn't quite the My Buddy/Optimus Prime hybrid that we've had in mind since age 8 1/2, but it brings us one step closer to the loving embrace of cold, possibly sharp steel talons. Because the Mega Mech Aimagination a fully remote controlled friend. Essentially an RC car with a balloon sticking out, the Mega Mech can also learn a few preset phrases and speak them back all killer-robot-like. The idea is great considering the pricetag is just $40, but something tells me that there's an Airmagination Rollerskating Doll out there that's just not being treated right.
---


Compiled by Imran H. Khan

Copyright (R) thedailystar.net 2007