Profile

Striding Forward

Trainee Assistant Police Super (ASP) Eliza Sharmeen has become the first woman in the country to command a passing out parade

Ahmede Hussain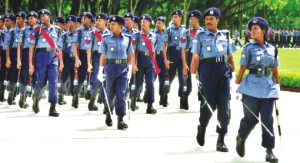 Eliza leads the parade. Photo credit: Prothom Alo
In the 25th Bangladesh Civil Service (BCS; Police) cadre there were 193 trainee ASPs, of them 163 were men. Eliza has been one of the 30 women in the group, in a force that is predominantly male. Not only that, the attitude of the police in the country, as recent history suggests, has been anti-women. It is indeed surprising that Eliza, a Rajshahi University graduate, who has already got a government job by passing the 23rd BCS, would prefer to re-sit for the exams two years later to join the Police. She, however, thinks more and more women like her should join to change the notions that prevail in the society. "After my first BCS exams I joined Rajshahi College as a lecturer. My father has also been a teacher; I was a student of the college myself. I was thrilled. But the thrill of doing something new, something adventurous, something challenging, has always fascinated me."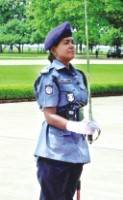 Photo credit: Prothom Alo
That opportunity opened before her when after winning the 25th BCS she opted for a life in the Police. Everyone, including Eliza's husband MA Yusuf Sarker, was surprised. "At first I thought she would not be able to go through the training, which, I heard, was rigorous," Yusuf, who works with the ICDDR, B says. But at the same time he had an enduring faith in what he calls "Eliza's amazing capability to cope with any adverse situation"; he says, "Once she took the decision to join the police, I knew that nothing would be able to deter her from being successful. As a person Eliza is very sincere, whenever she takes up any responsibility she does it with diligence, and she does it well."
Eliza remembers how her friends and family members had become divided in their opinions upon hearing the news. "Some of my friends were dead-against the idea, but my parents, my husband and his family have always encouraged me," says Eliza. The sad part in this otherwise happy story has been Eliza's students in the college, who cried at the farewell of their brilliant teacher. "My students and I were crying, I will not be able to forget that day," she recalls, "But they wished me well, saying that they would be really happy to see me successful in my new profession."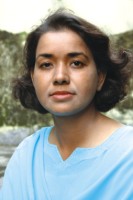 Eliza Sharmeen--changing stereotypes.
Life at the Bangladesh Police Academy (BPA) has been tough. From equitation (horseriding) to physical training, Eliza has mastered every form of policing. "It was never in our mind that we were making 'a woman' the parade commander, it was not out of pity or some sense of patronisation that we did it; Eliza is very disciplined, and in this world of women-empowerment she will remain an example for every woman in the police and for those who want to join the force," Mokhlesur Rahman, commandant of the BPA, told the Prothom Alo. Eliza, too, agrees. "Of the stories that we hear about the Police, some are true, some are preconceived or ill-conceived ideas. If more and more women come to policing I do believe that it will change the face of policing in our country for good. A woman, for natural reasons, feels more comfortable if she comes across a policewoman. And as half our population are women, it is high time that more women should be inducted into the police," she says.
And when on the bright green morning of 2nd September eight smartly turned out contingents of the newly graduated policewomen and men marched past under Eliza's command it ushered in a new era in the empowerment of women in the country. Eliza's stride forward will remain an example to the women of this country, she has proven that given enough opportunity, the women of our country can attain success, however difficult that may look like to the apathetic male members of the society. Eliza's story is also entwined with the story of Bangladesh's long march towards progress. Eliza represents a changing face of Bangladesh, a Bangladesh that our founding fathers have dreamt of but could not achieve. More and more Elizas are needed in our civil service. The sooner it happens the better.
Copyright (R) thedailystar.net 2007