A Roman Column
Returning

Neeman Sobhan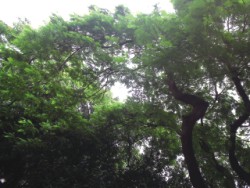 'September Light' photo: Rafia Ahmad
September in Rome is not just a month; it's a season. It is the portal through which summer departs and a suddenly changed wind brings word of winter's advent. I felt the news on my skin last week as I delved into my wardrobe for a long forgotten sweater.
I dislike wool and its touch made me long for cotton and all things summery. I felt nostalgic and wondered why summer always feels like an elusive visitor, an illusion; as if winter were the pervasive reality of our existence and summer the world of our dreaming. Of course, to my readers in Bangladesh these reflections might not find a ready relevance since tropical seasons and landscapes speak a different language, set up different expectations. Even a few days ago, while I was in Dhaka on a short trip, the heat of summer punctuated by the coolness of rain drenched winds created a longing for the relief of winter.
If I were in Dhaka now I'd look forward to winter's respite, too. But the European winter, long and grueling, even when it speaks in milder Mediterranean accents requires psychological preparation. Last week, when it felt as if the wolves of winter were howling at the door, I clung to images of summer sweat, whirring fans and purring air-conditioners. But this week, we in Italy have been offered a momentary respite from the certainty of winter as we have entered the most enchanting season of all: the false summer of late September.
If perfection could be distilled it would be the weather in the last few days. Imagine the morning arriving in a crystal bowl glinting with sunshine that is all light and no heat. The temperature is the last bowl of porridge that Goldilocks tasted: 'mmmm….just right!' The skies are cloudless blue, and the drooping flowers from August have all perked up refreshed into a renewed burst of glory. I am in paradise and knowing that tomorrow this seasonal show might pack up overnight and leave town, I am enjoying every moment of it. I am bathing in mellow September light.
September is also the month of the 'rientro' or rentry into the workaday world. It is a time of returning. Thousands of Italians are coming home from vacations and going back to routine life. The seasonal charm helps cushion the shock, and the seriousness of quotidian life is held at bay.
I am also making my own re-entrance into the world. I am finding my way back to my column. I abandoned it due to many reasons, all to do with the pressures of work and the exigencies of the writing and teaching life. Now that I am back, I must rewind and recount the anecdotes and experiences that befell me during my absence from my column.
A lot happened, among them the fact that I have been teaching Bangla to Italian students at the University of Rome, La Sapienza, and I have many amusing stories about it. In February, I was lucky to be invited to Delhi for a South-Asian writer's colloquium where I met some extraordinary women and fellow writers. I met the 1960's feminist icon Gloria Steinem, my favourite Pakistani writer Kamila Shamsie, the doyenne of Bangla literature Nobonita Deb Sen and our own Taslima Nasrin and many others and would like to share that experience, too.
And of course, the normal hiccups of everyday life need to be sounded and soothed as well. So, at the start of the blessed and auspicious month of Ramzan, I greet my readers with the invitation to another sort of re-entry: Welcome back to my Column!
Copyright (R) thedailystar.net 2007