Sports
7th June…
Nader Rahman
Our birthdays are feathers in the broad wing of time.
- Jean Paul Richter
On the 7th of June 1494 Spain and Portugal signed the Treaty of Tordesillas, thereby agreeing to divide the "New World" between them. On the same day Israel occupied Jerusalem during the six-day war, Priscilla Presley opened Graceland to the public, Prince changed his name to a symbol and the Pope became ruler of a state again. That is not even the half of it, three Nobel Laureates, one Academy award winner, one future Basketball Hall of Famer and the most photographed woman in the world were all born on the 7th of June. Aside from that Jean Harlow, E.M. Forster and Henry Miller all died on the 7th. It is a day which may be remembered for a number of reasons, but I remember it simply as my birthday.
This year my birthday seemed destined to mirror last year. In the first few hours of the 7th, the West Indies tried their best to repeat their "stupendous" performance against Pakistan last year. Much to my horror and utter bewilderment they contrived to lose a game they should have won two days ago, but eventually the last two batsmen played out 19 balls to secure an embarrassing draw. My favourite team has disappointed me
English midfielder David Beckham (L) is challenged by Paraguayan midfielder Cristian Riveros (R) during their first round Group B 2006 World Cup football match at Frankfurt's World Cup Stadium, 10 June 2006. England were leading 1-0 in the second half
over and over again throughout the last decade but if they were to lose today it just would have been too much for me to take. Last year in front of all my friends both the West Indies and I were humbled on my birthday, much to the delight of my friends who all support Pakistan. I have come to the conclusion that the West Indies take great delight in building up the hopes of their fans, only to let them down when it really matters. Birthdays are a constant reminder that time and tide wait for none, and on these days what one really needs is a boost, a reminder that all is not lost. Eventually what I am usually left with is that dreadful feeling that I am a year older, and when I need it the most the West Indies feel it is their duty to compound my sense of grief by losing miserably. At least this year I was alone watching them fumble towards relief.
During this time of extreme sporting pain I have figured out something amazing, Brian Lara my hero and Demi-God has managed to score a duck on the same day one year apart. While this year's Test match against India ended in the early hours of the 7th of June Bangladesh time, it actually ended on the 6th. And precisely last year on the 6th of June Lara was caught down the leg side for a blob against Pakistan. This year he was plumb in front for a zero on the 6th of June as well; it seems as if his dismissal for nought is only the starter to my birthday extravaganza. Pathetic performances, a hero in decline and calypso music that fades away reminding me that eventually I will as well, are all that I can look forward to on my special day.
Not all is lost though, even before I was born the 7th on June 1980 and '81 Bjorn Borg won back to back French Opens. The win in '81 was to be his last Grand Slam victory and was his fourth French Open in a row, within a year he retired at the age of 26. He drifted into drug abuse, attempted suicide and moved into the Swedish wilderness. In eight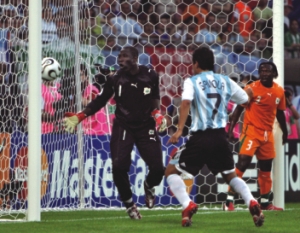 Ivorian goalkeeper Jean-Jacques Tizie (L) tries to catch the Argentinian forward Hernan Crespo (not pictured)'s shoot during the 2006 World Cup group C football game Argentina vs. Ivory Coast, 10 June 2006 at Hamburg stadium
years of professional tennis he won 11 Grand Slams and was possibly the greatest tennis player, he was voted the best Swedish sportsman ever by a jury in his home country and was inducted into the Tennis Hall of fame at the age of 30! On the same day in 2002 the Swedish played Nigeria in the World Cup and Henrick Larsson scored a brace as they overcame a spirited display from the African nation. But the 7th of June 2002 will not be remembered in sporting history because of the Swedish victory over Nigeria, it will forever be remembered as the day England played Argentina in a classic World Cup encounter.
Not all my birthdays have been as uninspiring as my last two, in the year 2002 in front of a room of Argentinian fans I had the pleasure of supporting England and they overcame the tournament favourites. What made that day even sweeter was that every single one of my friends there that day would gladly bleed blue and white. England and Argentina share a colourful world cup history that dates back to 1986 and the year one player single-handedly won the World Cup. In the '86 World Cup quarter final Maradona scored his infamous "Hand of God" goal, and then five minutes later proceeded to score the goal of the century as he waltzed pased an English team still dazed by his earlier "divine" touch. All of this happened when the tension of the Falklands was at its highest and the political back drop only succeeded in highlighting a match that was already a classic. In Italia 1990 it looked like there would be a rematch between the great rivals, but England were muscled out in the semi finals by the eventual champions Germany, if they had won they would have had another chance at taking on and beating Maradona and company, this time for the ultimate prize.
But it was not to be, they would next have to wait till 1998 and yet another classic this time at St Etienne. This game turned David Beckham into England's public enemy number one, he received a red card for a petulant kick and when England went out on penalties he was unanimously blamed for their early exit. But before all that happened, both England and Argentina played a fantastic game of open football, which resulted in 18-year-old wonder kid Michael Owen scoring a goal that reminded one of Maradona in Mexico '86. After a short pass from Scholes, Owen went down the length of the pitch and seemingly dribbled his way across every Argentine player and scored with the clam of a player twice his age. It was heaven sent and immediately reminded one of the great Maradona.
On the 7th of June 2002 it all started again, Argentina and England played each other in the ridiculously shaped Sapporo Dome. The stage was as dramatic as they come, both were in the group of death along with Sweden and Nigeria and this game would go a very long way to determining who would make it out of the group alive. With David Beckham as captain of England, the game would be thick of emotion and tension. Much to my amusement all the emotion and tension took place in my living room when a group of overfed Argentinian fans could not bear to watch "lowly" (as they put it) England matching Argentina tackle for tackle. Just for the sake of upsetting them I supported England, little did I know that by the time the game ended I would be celebrating in front of 20 crest fallen Argentine fans. Just before halftime England earned a penalty, and uncharacteristically Beckham decided to take it, he coolly took it and scored. With that one kick he buried the ghosts of the '98 World Cup and like Lazarus rose from the dead. Another classic ended with all 11 English players defending that one goal, and twenty Argentine fans on their knees in Dhaka. Few birthdays have been better and tasted sweeter, but for the time being I still have the sour taste of the West Indies in my mouth. Maybe all I need is a good World Cup to cheer me up, it sure worked last time.
Copyright (R) thedailystar.net 2006