Voicebox
"The interests and objectives of Bangladesh must be communicated to and understood by the President and his advisors on an ongoing basis."
The Washington Group and Ketchum Washington
Two US "lobbyist" groups appointed by the Bangladesh Government
in its objective.
The group, according to a newspaper report, will get a monthly retainer fee of at least $45,000 in addition to "certain out of pocket expenditure".
"The chain of plots by the American government aimed at governing the Middle East through the control of the Zionist regime will not succeed."
ALI KHAMENEI
Iran's spiritual leader
about the West's boycott of the Hamas-led Palestinian Authority (PA). Hamas recently won the general elections in the Palestinian territories. The US and EU have stopped aiding the PA because Hamas does not recognise Israel.
Last week Iran said it would donate $50m (£28m) to help fund the PA.

"I can't remember exactly what I said in parliament. The ministries concerned usually prepare the answers we place in parliament. And sometimes we are too busy to verify those."
HAFIZ UDDIN AHMED
water resources minister who is also in charge of the defence ministry in parliamentary affairs.
On February 22 Hafiz informed the parliament that the government in the fiscal year 2004-05 had signed an agreement with China to procure 16 fighter planes at a cost of $93.6 million. The planes are later revealed to be costlier by $24.3 million.
"Credit goes to Australia for coming back so strongly."
HABIBUL BASHAR
Bangladesh cricket captain.
Bangladesh lost the first test match to Australia by three wickets.
"We do not have any say about who will participate in the dialogue on your part and it will not be appropriate to impose your opinion about who will participate from our part."
ABDUL MANNAN BHUIYAN
Bangladesh Nationalist Party secretary general and LGRD minister in a letter to AL general secretary.
"We have urged to form the committee with members from the AL and the BNP on behalf of the 14-party and four-party respectively so that fundamentalist forces...which have created profound crisis for democracy and the existence of the state cannot create any complexity in the discussion."
AWAMI LEAGUE
in a letter to Abdul Mannan Bhuiyan.
---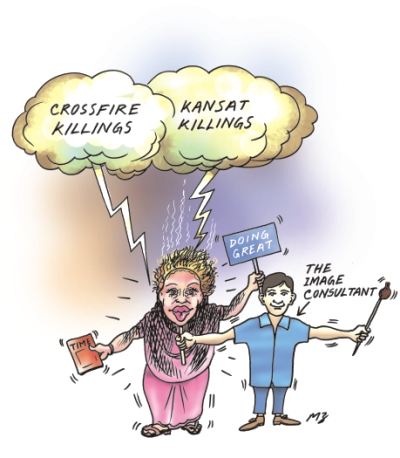 QUOTATIONS ARE TAKEN FROM DIFFERENT LOCAL AND INTERNATIONAL NEWSPAPERS. .
Compiled by: AHMEDE HUSSAIN. Quotes can be sent to <ahmedehussain@gmail.com>
Cartoon : MUSTAFA ZAMAN
Copyright (R) thedailystar.net 2006