Music
Music to my ears…
Elita Karim
It was probably one of the longest waits for the underground music fans in Bangladesh. Four years after launching its first album, Onno Shomoy, Artcell has come out with its second album, Aniket Prantor. A G- Series exclusive, the album, sponsored by Djuice, was launched earlier this month at Coffee House on Elephant Road, followed by a small gathering at the Geetanjoli stores at Basundhara City Complex.
With a set of 10 numbers produced by Artcell and Iqbal Asif Jewel, the album displays a style very different indeed, in terms of music that Artcell is well known for creating, Bangla heavy metal. Recorded at Dream Desk Studio, Studio Bass and Not Of This Earth, this album consists of numbers that can be described as mellow, soft rock and progressive all the way, including a few of the typical Artcell head-whacking compositions of course.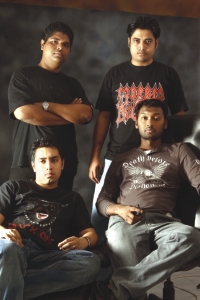 Photo: Andrew Biraj
Taking four years to work on this particular album was probably worth it, according to some listeners and critics. The band clearly worked hard to come up with a different sound all together. Even though the album came as a 'breath of fresh air' for many a music listener, some of the hardcore Artcell fans seemed a little confused with all the experiments and missed the typical Artcell sound they were accustomed to. "Every band always desires to do something a little diversified and different from their previous productions," explains Shams Mansoor Ghani, the famous keyboardist and composer of Warfaze. "Doing the same thing over and over again would actually put one's creativity to a standstill, hence experimenting and working on one's artistic abilities is a necessity. I think Artcell did a pretty good job with working on a different sound."
The album begins with Lyn, short from of the Bangla word 'Bilin', a soft melody with fluttering guitar strums. This number clearly defines the term 'different' in Artcell's dictionary and marks a pathway to the rest of the compositions in the album. Some of the other numbers that caught the listeners' attention are probably Srity Sharok, Dhushor Shomoy, Shohid Shoroni, Tomake and the title track Aniket Prantor.
The title track Aniket Prantor, which also happens to be the last track in the album, has definitely made a mark in the records. Written and visually conceptualised by Rumman Ahmed, not only is it the longest song (16:20) in the album, it is also a composition consisting of several diversifications, starting from voice modulations to rhythmic expressions. This track also portrayed the versatility of Lincoln's vocal work, which seemed to take on an altered appearance as compared to the rest of the numbers in the album. One can go on listening to this last track for hours at a stretch and realise the splendour in Cezanne's bass work, Ershad's guitar and Shaju's double-bass drumming effects as well. "The title track is probably the band's favourite," says Cezzane, the bassist of the band. "I think it shows our maturity where music making and understanding is concerned and also the technical skills that we applied and are still trying to maintain." Ershad, the guitarist, claims that he simply followed his intuitions while working on this song. "All I can say is that I had a feeling that I just followed," he explains. "We just love the song!" says Shaju the drummer. "It has parts which are mellow, soft, moving on to heavy and technically challenging as well. The song also has beautiful lyrics related to the whole theme of Aniket Prantor"
Listeners who appreciate an easy listening, an acoustic feel, a down to earth sensation and inspiring lyric, track 8, Tomake, is the one you should listen to. Written by Ershad himself, this 'guitar-based' composition has brilliant vocal work displayed by Lincoln. "It certainly takes on a dreamy feel as you go on listening to it," exclaims a listener.
"Artcell is basically a live performing band," says Shaju. "Our main feedback comes from live concerts. After Aniket Prantor came out, we didn't perform live since we are planning to start off with a solo Artcell show. However, based on the feedback we received from our fans and friends on personal levels, we can say that they love it."
A common complain that fans have made is that Aniket Prantor is nothing like Onno Shomoy. "Well, that makes us all the more successful!" smiles Shaju. "We had a huge pressure to make this album at least as good as our previous release Onno Shomoy. We wanted this album to sound different from Onno Shomoy and that is what we did."
The uniqueness of this album would be incomplete without Shahriar's keys on Lyn and his synthetic orchestration on Aniket Prantor and Tomake, not to mention the lyricists, the famous Rumman Ahmed and Ranjan from Arbovirus for Pathor Bagan. The CD covers were designed by Rumman, Dana and Artcell. Jaiyyan's work on Shohid Shoroni in the CD sleeve and the cassette cover design was unusual yet exceptional. The album was mixed and mastered by Iqbal Asif Jewel (Not Of This Earth).
Copyright (R) thedailystar.net 2006