Environment
The Future of Gulshan South Park
a pro-people plea
Shayer Ghafur
City spaces are highly contested arenas. Different social groups compete within themselves and with others for access to and control over urban space, a common feature of urban life. Most of the groups concerned are driven by the necessity to survive; while a few among them are driven by the possibility of profit that space a highly valued commodity can make in the market. The production of urban space, either through urban planning or design, does not take place in an all-consensual and apolitical premise. Planned city, however, attempts to regulate, mitigate and guide this competition in a way that benefits all groups concerned, including the corporate sector. Despite the best intentions behind the city planning there are winners and losers, but within a scale. How has Dhaka been responding to this issue of access to space? Not so good. 'Winner takes it all' seems to be the case beyond any measurable scale.
Recent media reports have indicated major contradictions in the production and transformation of urban space in Dhaka. The ways in which public authorities, Rajuk in particular, develops, assigns and then sells land creates conflicts of interest. On the other hand, when the authority assigns and approves non-designated use to existing land it comes in contradiction with its own roles; for example, an area specific to residential use is not a residential area anymore. It is now an open secret that a gulf of difference exists between the city land's government and market prices. In this 'imperfect' or 'distorted' market, land becomes arguably the most valued commodity. It is no surprise that land receives more than its fair share of attention from land speculators and developers as well as grabbers. A gainful nexus develops between some of them and a section within concerned authorities. This nexus makes power and profit the opposite sides of the same coin. Prof. Wahiuddin Mahmud, an economist, once opined that land is now a days the most important factor of production in Dhaka, not capital (or the cheapest of them all, labour). Who would have thought that a catch phrase "amito pani kinee" (from a 1980's BTV classic serial) would prove to be so prophetic. Few would argue that these pani baparies (water merchants) are on a rampage lately, creating ecological disasters in and around Dhaka.
One specific example of this trend that this article will focus on is Gulshan South Park. The park, a site of approximately 4 acres, was originally designated as a park for the Gulshan Model Town by the then DIT (now Rajuk) back in 1962. DIT handed over the Park (reportedly 2.504-acre) with other areas to the Gulshan Pourashava. Gulshan Pourashava was abolished in 1982 and Gulshan South Park was taken under the control of Dhaka City Corporation (DCC). GSP was in use until recently as a temporary housing for the Class Four DCC cleaners. Their recent removal raises questions regarding the future use of this site, situated at a prime location in the city. Raised questions have now turned into suspicions as DCC has erected high boundary walls and suggested controversial and debatable uses. DCC, the alleged owner, proposes to construct a community centre a 'top-down' decision detached from the ground realities. On the other hand, Gulshan host-community and activists are desperate to keep Gulshan South Park as a park.
The future of the park is indeed uncertain as it rests, first, on how local-central authorities, Dhaka City Corporation (DCC) in particular, understand the true nature of and demands for an urban open space for public use. Secondly, how is the concerned host-community willing to respect an inclusive approach towards public consumption. Thirdly, how do design professionals restrain their creative impulses in favour of understanding the space uses from the user's point of view while maintaining the site's scale. It wouldn't be too difficult, to come into terms with the latter two host-communities and designers. Our present concern is with the DCC. Given its track record in the recent past, what DCC does with public open space is unimaginative to say the least. Without any urban design framework for Dhaka, what DCC has been doing is but adhocism for mere short term gain. To refute my claim, I hope someone gives an explanation with reference to how DCC had approved while LGRD objected to the proposed flyover museum at Asad Gate.
Future encroachment, i.e. slicing Gulshan South Park into commercial and residential plots with a miniscule apology of a green, would have negative implications for the host-community, if not the rest of the city. We may remind ourselves that Baridhara Park is not so distant a precedence, courtesy Rajuk, to carry on encroachment. If the developers are allowed to satisfy the greed of a few then it would set a wrong precedence for other vulnerable public open spaces within and beyond Dhaka. Encroachments or grabbing the park land for narrow commercial interests justifies subsequent turning of other public open spaces into apartments, toilets, community centres, shops etc. Reports already published in the media justify our fear. On the other hand, if resisted in the greater interest of public welfare then it should send the right signals to the vested interest quarters. Community power mobilised through Gulshan Society, with support from different activist groups and media, will strengthen the voices of other communities in and around Dhaka.
Ensuring a public and green future for the park is definitely not a case to benefit the already privileged section of society. Gulshan South Park, by virtue of its location, has the potential to become a test case where communities with quite contrasting socio-economic backgrounds can have their myriad environmental and recreational needs addressed. Communities referred to here are Gulshan, Niketan, and South Badda. After park development, whether privacy of the host-community is maintained or not is all together a design and management issue. Lessons that we have learned from the over-design of Dhanmondi RA lake development ask for showing more respect for privacy considerations of the host-community. There is no point in inviting a whole city while enforcing the host's retreat from the party.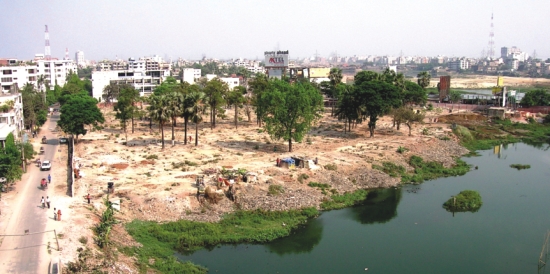 The presence of the park is vital for the physical and mental well-being of all, specially, citizens living in that part of the city with different socio-economic backgrounds. Environmental and ecological implications of Gulshan South Park are significant too. Concerned authorities should view the future of the park in respect to present as much as in future terms. Their dealing of the park has to reflect its status as a 'non-renewable' resource in the context of Dhaka. We can refer Mitlin and Satterthwaite (1996) for giving Gulshan South Park a critical 'sustainable' underpinning. In their words, "there are also cultural, historical, and natural assets within cities that are irreplaceable and thus non-renewable for instance, historic districts and parks and natural landscape which provide space for play, recreation and access to nature". I believe that raising the sustainability point is enough to make readers aware without grim statistics. As far as Gulshan South Park is concerned, present generation at this point in time ought not to have
requirements conflicting to those of the future generation. A public open space without a community centre is perhaps the best way to ensure its sustainability. The Shooting Club, just opposite to the park, that has been serving well as a community centre makes no ground for another such facility.
While Dhaka is yet to become a fully planned city, functioning with good governance, who do we think would look after the well-being of its people? Without hesitation, we would think of public institutions like Rajuk and DCC, collaborating with different civic groups. For the said wellbeing, their role in retaining existing public open spaces is not negotiable. Retaining open spaces for people's use, however, is certainly a case to argue for, to fight for. This would be for the benefit of the host-community as much as for the people living in the unplanned parts of the city. DCC, by ensuring that open spaces are not depleted but conserved, can restore people's equal opportunity to access and enjoy public open spaces.
Having said so much about the future of Gulshan South Park with a pro-people bias, I would like to offer a few recommendations for due consideration. They are:
If Gulshan South Park needs be made smaller from its existing 6.5 acre toward its original allocation (allegedly 4 acre) then the excess land is to be given back to the adjoining lake.
Develop the park through its integration with the surrounding lake developments.
Avoid giving design contract to any individual. A transparent design competition is worth pursuing to uphold the spirit of the public project without setting any 'pre-qualification' criterion to give benefit to any particular entity.
Ensure 'bottom-up' participatory approach in all stages of planning, design and management.
Envision integration of complementary and mutually reinforcing public functions, with unthreatening scale, to allow the Park develop a sense of place in the public realm.
Promote inclusive design by privileging children while considering equal opportunity for all strata of society but without compromising vandalism and public nuisances.
Empower Gulshan Society as the key management partner of the Park.
Design Studio VII, Dept. of Architecture, BUET, had recently investigated and explored the future of Gulshan South Park, supervised by Prof. Faruque AU Khan, Prof. Shaheda Rahman, Farhan Sirajul Karim and the author. In terms of design method, students of the Studio were encouraged to follow a 'bottom up' approach, by talking to different stake-holders, for understanding and developing project requirements. Their design challenge was to develop a programme with compatible park and non-park uses, without threatening the nature of the public open space, to tap on their multiplier effect to contribute to meaningful pubic interaction. Images of their projects shown here are indicative of a wide range of what is possible regarding the future of GSP. Their work, hopefully, would make us all aware that Gulshan South Park does not deserve anything less imaginative, inclusive and responsive.
Copyright (R) thedailystar.net 2006