Tribute
Homage to a Guru

C R Abrar
This week marks the ninth death anniversary of renowned sarod and sitarist, Ustad Abed Hossain Khan. I had the privilege of knowing him from my University days. I was his student for a good number of years, tried to learn sarod, an instrument over which he had an excellent command. Ustadji was a great, yet simple man. I feel very fortunate to be in close proximity of a person who was not only a talented musician, but an individual who bore rare qualities.
Over the years, I saw him nurturing and grooming Shaheen, now Ustad Shahadat Hossain Khan, his able protégé and progeny, with great care and affection. As I fondly remember Shaheen struggling to keep control of sarod in his small lap, I realise the true meaning of parampara, the handing away the torch of knowledge and skill from one generation to the other. The other evening at the National Museum, when I saw Shaheen performing, with his two teenaged daughters seated along with their own instruments in their hands and laps, I noted the continuation of that parampara.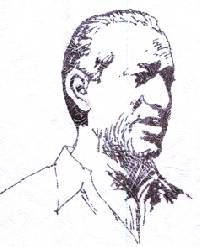 Periodically, Ustadji's other gifted brother, sarod maestro Bahadur Hossain Khan, visited Dhaka from Kolkata. During such visits I saw Ustadji brimming with filial affection. He took care of every details of his brother's itinerary, fixing up private functions and public programmes. He accompanied him in most of those programmes, encouraging his pupils to join them. He strongly believed that the more the students saw a good musician perform, better grip they would gain on the art.
Ustadji was a committed guru. He preferred to teach on a one to one basis. He could have easily offered group lessons to lessen his workload. But he was convinced that quality lessons could only be imparted through personal attention. He wrote lesson plans in the copies of each individual student that was a painstaking and time consuming task. I wonder how many teachers would make such effort and spare so m uch time for their students nowadays. It was perhaps his love for music and an urge to develop a new generation of music lovers that made him do that.
During my many years I do not remember him missing a single lesson. If some programmes had come on the way, he rescheduled his lessons well in advance.
As groups of students picked up their skills of playing the instruments, Ustadji began organising musical sessions at the homes of his admirers. He, Shaheen and the students all performed on such occasions. This was an innovative way of Ustadji to give his pupils the glimpse to what was to come in their way, if they worked hard. I remember the excitement and nervousness that all of us had in the run up to such programmes. After each successful programme we could see Ustadji's satisfaction reflecting in his smile.
Ustadji was a very shy person. He had little interest in media coverage. He led a very austere life and a disciplined one. In every way he was role model.
I remember the first time the string of my sarod snapped as I was practising. I was horrified and passed an almost sleepless night, wondering how I would face Ustadji. At the next lesson, I took the sarod, called Shaheen out of the house, and informed him of the bad news. Shaheen did not consider it to be a big deal and took the sarod to Ustadji. I still remember the guffaw that Ustadji broke into when he heard about my predicament. He comforted me stating that breaking the string was the first step to be a good musician.
I am afraid I could not move much beyond that first step. Although I could not become a sarodist as Ustadji had hoped for and I had aspired to, I can certainly say that with his effort my ability to appreciate classical music significantly improved. When I attend musical soirees and have the good fortune to enjoy live performances of great maestros here in Dhaka, in the Dover Lane Music Conference in Kolkata or at Covent Garden or Royal Albert Hall of London, the theoretical lessons on ragas Bhairabi and Kaafi and on technicalities of meers and gamaks that I received from Ustadji elevate my appreciation of classical music. In my own humble way I also encourage my children to accompany me to these sessions. I do so because I do not want them to miss out from this wonderful world of spirituality that Ustadji has helped us gain access to.
I pay deep respect to this wonderful human being on his anniversary of death.
Copyright (R) thedailystar.net 2005